More than ever, brands are signaling support for the LGBTQIA+ community during Pride month, but we say that true support has to come from more than a rainbow-hued post on social media.
In 2019, a US-based study about consumer perception of Pride-related campaigns turned in some not-surprising results. Fifty percent of respondents said that companies launching Pride-themed products were doing so as a marketing tactic. On the other hand, 21% thought it was a true reflection of the brand's values. So, let's talk about it. 
As soon as June 1 hit, brands switched social media avatars to rainbow-hued versions, made posts in solidarity and released a slew of Pride-themed products. But with consumers giving a more watchful eye than ever to the brands they buy from, it has to go deeper than rainbow packaging. For instance, brands are being called out for purporting to support the LGBTQ+ community even when the companies have a history of donating hundreds of thousands of dollars to legislators who sponsor anti-trans legislation. A quick example here: 
Disney is one of the big names hosting this years "Gay Days" in Orlando. The event kicked off on Thursday (2.6.2022), one day after the start of Pride Month, with stops at Walt Disney World, Universal Orlando, SeaWorld and the Avanti Palms Resort Orlando. "Gay Days began in 1991 as a single designated day (always the first Saturday in June) when the LGBTQIA+ community and friends were encouraged to 'Wear Red and Be Seen' (aka #RedShirtDay) while visiting the world's most popular theme parks," leaders described on the website. The event's return to Walt Disney World comes amid controversy surrounding the recent signing of Florida's Parental Rights in Education law, known to its critics as the "Don't Say Gay" law. The legislation signed by the governor bars instruction on sexual orientation or gender identity in kindergarten through third grade.
But let's go back and start with a small history lesson about pride month in general and how it got from riot to retail:
Pride Month is currently celebrated each year in the month of June to honor the 1969 Stonewall Uprising in Manhattan. The Stonewall Uprising was a tipping point for the Gay Liberation Movement in the United States. In the United States the last Sunday in June was initially celebrated as "Gay Pride Day," but the actual day was flexible. In major cities across the nation the "day" soon grew to encompass a month-long series of events. Today, celebrations include pride parades, picnics, parties, workshops, symposia and concerts, and LGBTQ Pride Month events attract millions of participants around the world. Memorials are held during this month for those members of the community who have been lost to hate crimes or HIV/AIDS. The purpose of the commemorative month is to recognize the impact that lesbian, gay, bisexual and transgender individuals have had on history locally, nationally, and internationally.
It's important to remember that while Pride is a genuine celebration of and for the LGBTQIA+ community, it's also about fighting for acceptance and change around the world, including the 70+ countries across the globe were identifying as a member of the LGBTQIA+ community is illegal.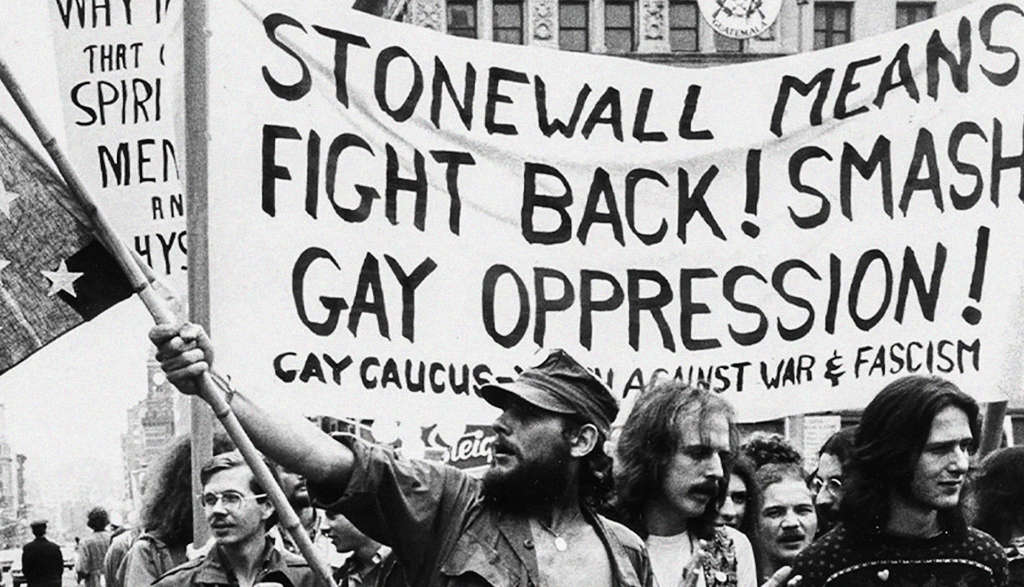 So why do brands use this important time of the year for their marketing? It would be nice to think that it comes from a place of understanding and solidarity when brands showcase the pride flag on products, websites and social media. Sorry to pop your bubble but most people identifying as a part of the LGBTQIA+ community don't feel seen or represented by a fast fashion logo shirt with the pride flag printed on it. Another favorite of ours is Eis.de: The online sex-shop is known for its progressive thinking and its support in destigmatizing sex and self-pressure. But since when is a sex toy in rainbow colors representative of ones sexuality? Which member of the community thinks: "Hey, look! A dildo in the colors of the bi-flag! I am finally represented!" The real reason why brands are seen sporting pride flags and slogans on merchandise is as simple at it is frustrating: money. As so often, the reason is an economic advantage that the brand expects to gain from the use (or misuse) of these things. Thus, the main problem is not with the individual but with a system that allows an economic advantage in the first place. 
These questions should therefore be kept in mind: Is the brand or company showing genuine support for the LGBTQ community, or are they showing support because others are during this month? Are your other marketing campaigns inclusive? Does the brand or company create an inclusive and safe working environment? Does the company actively support LGBTQ groups, charities, and/or movements?
The power of Pride can be celebrated year-round and not just in June when other brands are, and it's convenient. Absolut Vodka celebrated the power of love with their Drop of Love campaign, which launched with a limited-edition bottle in time for Valentine's Day. Showcasing how a drop of love can go a long way, the eye-catching Absolut Drop bottle was created using ink extracted from racist and anti-LGBT hate signs around the world and is adorned with the word "love" in multiple languages, showing that love is universal and has no borders. 
So – how do you successfully market Pride? Because not all brands may have the resources for a major global campaign. Or they may not be able to donate a portion of their proceeds to charities. At the end of the day, it's about being an advocate for a community that wants and needs your support. For example, rather than creating a rainbow logo once a year, make sure that all campaigns are representative and supportive. Simple steps like showing someone that looks like them in an ad, having brands that say "Mrs and Mrs" or allowing gender-neutral options can go a long way. (And maybe don't print Pride Flags on Dildos – that is just stupid).
Happy Pride!