Less than two weeks ago Virgil Abloh lost his fight against cancer at the age of only 41.
Abloh was born in 1980 to Ghanaian immigrant parents. His mother worked as a seamstress and taught him how to sew, which clearly can be called the first step of his soon to be career in fashion. After finishing High School he went on to study and received his Master of Architecture before becoming a or better said THE leading global figure of fashion and arts.
Most people heard about him or saw Abloh for the first time when Kanye West – together with his entourage consisting of the likes of Tax Arnold (who would later be known as one the driving forces behind the 90's retro hype of the mid-2000s by launching his brand TI$A), Don C (who would go on to collaborate with Nike and launch his Just Don clothing brand), Fonzworth Bentley (he was once Puff Daddy's butler and known for his extremely elegant style), Chris Julian (Founder of Las Vegas-based vintage boutique Fruition) and Virgil Abloh – posed for a street style photo in font of the Comme des Garcons runway show at the 2009 Paris Fashion Week.
The photo was mocked in a South Park episode and is in my opinion one of pictures streetwear heads will forever remember. It was the same year Abloh and Kanye West did internships at Fendi. With that, streetwear culture was clearly paving its way into the high fashion world.
During Virgil's time at university he first heard about Rem Koolhaas, an architect who also worked on runaway shows for the fashion house Prada, which sparked his interest in designing fashion.
Fast forward to 2018: Abloh was signing on to become artistic director of Louis Vuitton – not only as a studied architect but as the first black man to do so. Two years later, he would found the "POST-MODERN" Scholarship Fund for Black American creatives.
But let's go back to his days at university, because it was around that time that he started selling his own t-shirts and fashion blogging. Next to Koolhass Virgil had many inspirations: For example, Marcel Duchamp, a French writer and painter famous for his dadaistic, cubistic and conceptual art became one of his biggest influences. Duchamp was known for his idea, that by changing only a small part of an object e.g. by signing or even repositioning it, it could turn it into something completely different and therefore become art. A motto that would accompany Abloh through his artistic work.
Take Pyrex Vision for example. Founded in 2012 and closed down only a year later the brand is most famous for their flannel shirts. Those shirts were in fact deadstock Ralph Lauren shirts bought up for like 40$ and refined with the brand's name and the number 23.
23 clearly being a nod to Michael Jordan, who is not only seen as on the greatest of all time on the basketball court, but whose line of sneakers has been an integral part in sneaker and streetwear culture. The name itself derives from Pyrex, a line of thermal-resistant kitchenware, that has been name-dropped in so many rap lyrics due to its preferred use in cooking crack cocaine, that itself found a way into pop culture. I couldn't help but smile when I watched the latest LV show the other day and the Pharrell-produced beat of The Clipse's "Mr. Me Too" began to play. "Pyrex stirs turned into Cavalli furs", Pusha T raps on the song.
A shirt like this belongs to a museum as the epitome of the merger of streetwear, sneaker culture, music and pop culture in general. Abloh did not close the brand due to missing financial profits – his 40$ shirts were sold for more than 500$ – but due to him seeing the whole project not as a commercial one, but an artistic one.
Not soon after he started his next venture Been Trill, once again getting the attention of the whole industry and streetwear fans. The "FREE KEEF" shirt was released when Chicago rap star Chief Keef was still incarcerated.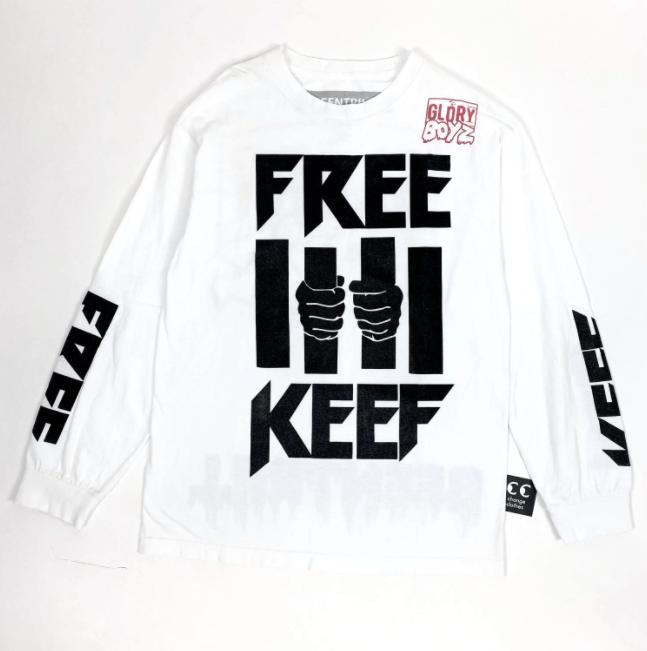 In 2013 he started Off-White and build his brand, whose first collection drew inspiration from Baroque artist Carvaggio just as much as from the German design studio Bauhaus, into a staple of contemporary fashion.
Abloh was an artist and a cultural curator, something that no crazy crowd at one of his Ikea collaboration's releases gives justice. Neither do extremely-high resell prices. His products, wether they were released with Nike, Ikea, Undercover, Louis Vuitton or one of his own ventures like Pyrex, Been Trill or Off-White are like modern art and should be cherished as such. They are artifacts of the zeitgeist – a zeitgeist whose boundaries and walls were torn down by Abloh and other creative minds of his generation. He made art that was supposed to be available for everybody and of course meant to inspire everybody.
The "sudden rising" of resell prices for his products (The Jordan 1 Chicago Off-White went from 5.000$ to more than 8.000$ after his death was made public) could therefore be seen as a disgrace and the opposite to how his art should be handled.
What I stumbled upon last week was a link on his official website leading to his "RESOURCE CENTER FOR BRANDS IN THEIR EARLIEST PHASES". A compendium consisting of chapters ranging from "HOW TO NAME YOUR BRAND" to "HOW TO SHOOT A LOOKBOOK" to "HOW TO MAKE A WEBSITE".
While not everybody with artistic aspirations has a network or the from the start on-need skills to build his vision, Abloh put together all the information needed on his website – to see other shine as well. To help and inspire a generation that no longer thinks in the boundaries of high fashion and streetwear, that does not need to be exploited at internships and that will not play by the rules of business men, who don't have any idea about what our culture means to us.
Since his passing on November 28th, numerous people have expressed their condolences for Virgil Abloh. The most touching one I've seen was posted by the founder of legendary streetwear brand The Hundreds, Bobby Hundreds: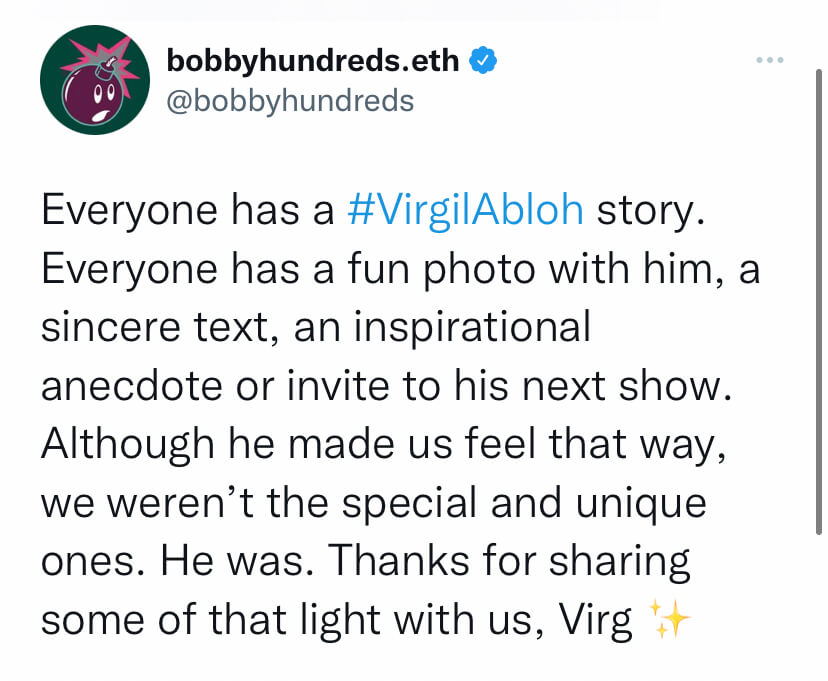 This post is the manifestation of Abloh as a fashion designer and as a great human being. He made us feel special. By saying us, I am not only talking about the individual, but our culture in general. Angelo Baque of Awake and Supreme-fame thanked Abloh for "creating opportunities for all of us" and that is something he was way more famous for than the red zip tie you saw on so many shoes over the last years.
His principles are to be honored, his artworks are to be displayed for future generations to inspire them and his releases to be cherished and appreciated.
I remember my personal special moment: It was being invited to his show at Paris Fashion Week 2018 and of course I couln't let this opportunity slip away to see one of my personal heroes – this season's collaboration partner and Graffiti legend Futura – taking over Fashion Week. A fight between two girls in the line waiting to enter broke out and everybody standing near – including me – was told do leave. But I could still hear the sounds of subway trains honoring the artistic life's work of Futura coming out of the venue. It was a good feeling. And even though I could not see the show I felt special, because I was part of something bigger than only an audience next to the runway. It was our culture that has been laughed at for years now taking over.
With his last Louis Vuitton show taking place only days after his death, it of course became a celebration of his artistic mind with friends like Kanye West, Kid Cudi, Erykah Badu, Luka Sabbat, Samuel Ross and Pharrell Williams among others, in attendance. No mourning of his death, but more a celebration of his life.
But there was one thing I think they got wrong…
The runaway shows grande finale consisting of fireworks and drones forming the sentence "Virgil was here" in the Miami night sky should better have said "Virgil will be here forever".