Can you believe it's almost December and the first Advent already? How has the year gone by so quickly?
At TITLE, we are proudly looking back at 2021 and want to say thank you to all the contributors and members of our community for supporting us and making this year a very special one. Whether you are a fan of Christmas and its gifting culture or not, we celebrate Christmas for love, our family and friends. Besides, a gift can be so much more than an object wrapped in paper. Especially in times when the climate crisis is becoming more and more noticeable, people should increasingly refrain from consumption and question their purchasing decisions. About $15.2 billion are spent on unwanted presents during Christmas. Can we rethink this equation? With less waste and more nature.
So today, we asked all our personnel to collect their ideas for conscious Christmas presents. Of course, our first printed zine TITLE(D) is a great gift option, however, together with the whole team, we have assembled a very personal and thoughtful gift guide. True to our brand identity at TITLE, we always aim to create sustainable content and support the community. Merry Christmas!
DIY & Selfmade Gifts
When thinking about sustainable gift ideas, something selfmade seems to be a good idea. Handwritten letters, a painting, a knitted jumper… all great ideas but maybe you are looking for something new, something you didn't do last year already:
You get some paper which is empty and has some white space left. Grab a pen and write down a geniuine compliment for your neighbor, brother, best friend, whoever. If you are with yourself, write one for yourself. Read it out loud. Creating new rituals and traditions for tomorrow.
"I've always wanted a book filled with all the delicious recipes my mom and grandmother used to cook for me. Whether you cook together or you're the host aka the "chef", good food full of memories will always bring joy. The way to someone's heart is through their stomach." – Elena (graphic designer)
For DIY project like that you can find many inspirations on Pinterest.
This would be a lovely group present, so, collect all your friends and record something – a song, a rap, or poem. This is also a great idea for long distance relationships, and friendships because this present is mainly digital and thanks to editing it'll connects you and your loved ones all around the world.
"A few times I have organized and recorded a little rap as a present. Once with a few friends where each one had an own verse. And another time with just one friend of mine. All you need is a beat, creativity, flow and someone who knows how to put it all together. Boom. It's a personalized banger." – Enlil (content manager)
Old & Thrifted Media
If you or the person you want to get a gift for are a sucker for nostalgia, then this is for you! Old items bring back memories and something that can truly kindle your holiday mood. No matter how old you are, something like a second hand camera or personally curated mixtape on a vintage walkman is always something special. And if you like you can spice it up a little.
Does it sound boring to have books as your go-to gift for a loved one? No, because books rock! Whatever your loved one's interests are, you will surely find something that fits at your local second hand book store or even online on sites like www.medimops.de. Finding old copies of books with different covers is also much more interesting than buying new ones.
Btw. Something that in my opinion is a must are some personal words written onto the first pages. One of my favorite books and the perfect gift for anyone who likes photography and history, is "American Pictures" by Jacob Holdt. – Caiza (editor)
This does not only go for books, but also records. There are awesome websites like www.discogs.com where you can find basically every record you can imagine. Their marketplace is community driven and every music lover's dream. Can you please tell me what's more wonderful than talking to a good friend about a good book or listening to music together? Right. Nothing is better.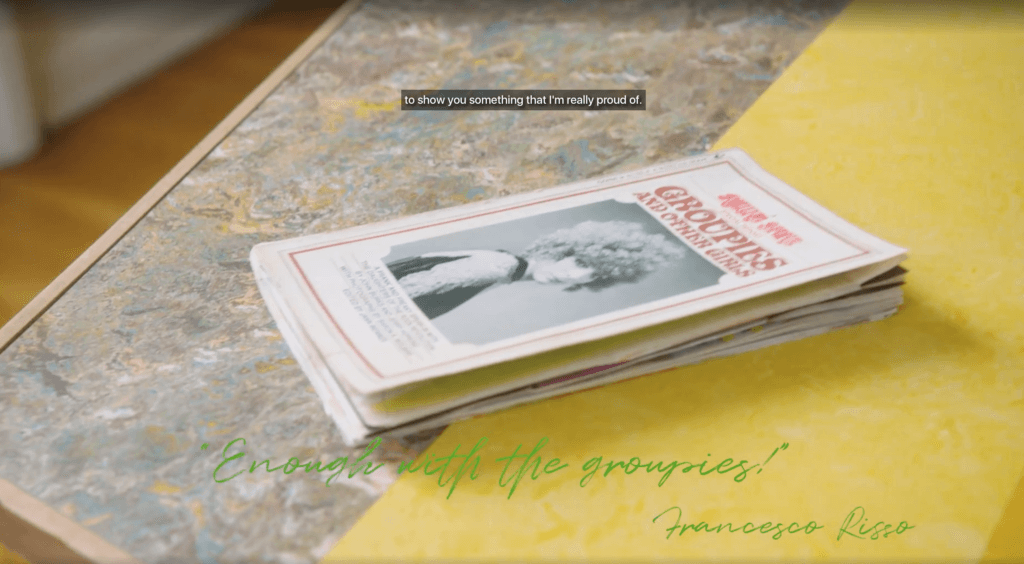 Talking about books, our founder and creative director had the following idea: "Wouldn't it be nice to customize a book? Maybe your favorite book with beautiful poems, or a story that reminds you of a person. Books are multi usable, you can thrift them and make beautiful inbook collages, drawings, poems or even paintings. Lately I've seen a video, where Francesco Risso shared a Birthday Card one of his friends made for him out of an old 'Groupies and other Girls' Book. It looked amazing and it's filled with memories, such a unique gift. – Nessie
Immaterial
Before squeezing in another presents, we have a question for you: Can we recycle, reuse or upcycle the item or experience? You can totally get creative when mapping out the domino effects of our purchases and (should) think in cycles as landfill and plastic exist with us. Weighing up how much one gift will add to the other person's life. So why not keep it simple? Offer someone your deepest attention and time.
More Time and Cuddles (as a very appreciated voucher)
Donations and Charity Support
For many people and animals out there Christmas is no holiday, but a factor that worsens their lives. So instead of thinking about presents for family and friends, maybe think outside the box and support people in need, animals, or our environment.
Here are some great charities that need all the help and love from you:
Your local animal shelter
You can find many more organizations that are in need of donations HERE.
Less Waste & More Thought
With just one little detail you can up-grade a pre-loved item and make it the perfect present.
"I remember when I was a kid, my mom would always sew a little lucky charm in my sweaters to prevent the energy of bad eyes. I think it's such a nice detail and so thoughtful. Gifting someone maybe an old piece you already own and that that person once admired is sweet and adding a little sweet tag, stitching or lucky charm just ads another personal note to it" – Nessie (founder and creative director)
Further ideas for customization: embroidery, patches, brooches, pins, and paint (basically whatever you like, depending in the object your customizing. And again I am sure you'll find many inspiring ideas on TikTok, YouTube and Co.)
Spending time with loved ones is probably the most wonderful gift you can give or receive, so why don't you invite your mum for a nice dinner, or go to your best friend's favorite artist exhibition. Our editors have been collecting some ideas: Artnight Events to get slightly tipsy and discover your inner artist, a pottery course to get your hands dirty and create together (going out version: https://www.potterytribe.com/workshops-in-berlin staying at home: online classes, or https://zuhause-toepfern.de/, and how about some (annual) tickets for your favorite museum or cinema to spend some 'cultured' quality time with someone special.
---
Contributing editors:
Nessie (@nessie)
Enlil (@enlilisik)
Laura (laura.gruebler)
Elena (_elenamarija)
Annika (@aed2309)
Caiza (@caizacaizacaiza)