An Interview With Fashion Designer Inez Naomi
Admitted: it is not uncommon that a fashion brand claims to be inclusive and sustainable. Yet the young Dutch clothing brand Versatile Forever manages to prove it on a higher level. The items are not only created from second-hand clothing, the design process is also completely turned upside down in order to make it as wasteless as possible. Versatile Forever was founded at the beginning of 2020 by Inez Naomi Correa Alves. Diversity and empowerment are at the core of her brand, aiming to make her designs wearable for a wide range of people. The creative is always searching for the aesthetic boundaries between what is seen as 'ugly' and 'beautiful'.
Shortly introduce yourself and what you're currently working on.
I am Inez Naomi, stylist and fashion designer from The Netherlands. Currently, I'm working on the second drop for my brand Versatile Forever. It's a follow-up on the first collection "Not Your Soccer Wife", which is a series of reversible bikinis created from vintage soccer shirts. Around November, the second drop will be launched and will also contain designs inspired by and created from soccer-related textiles. This extensive collection includes unisex tops, bottoms, and dresses.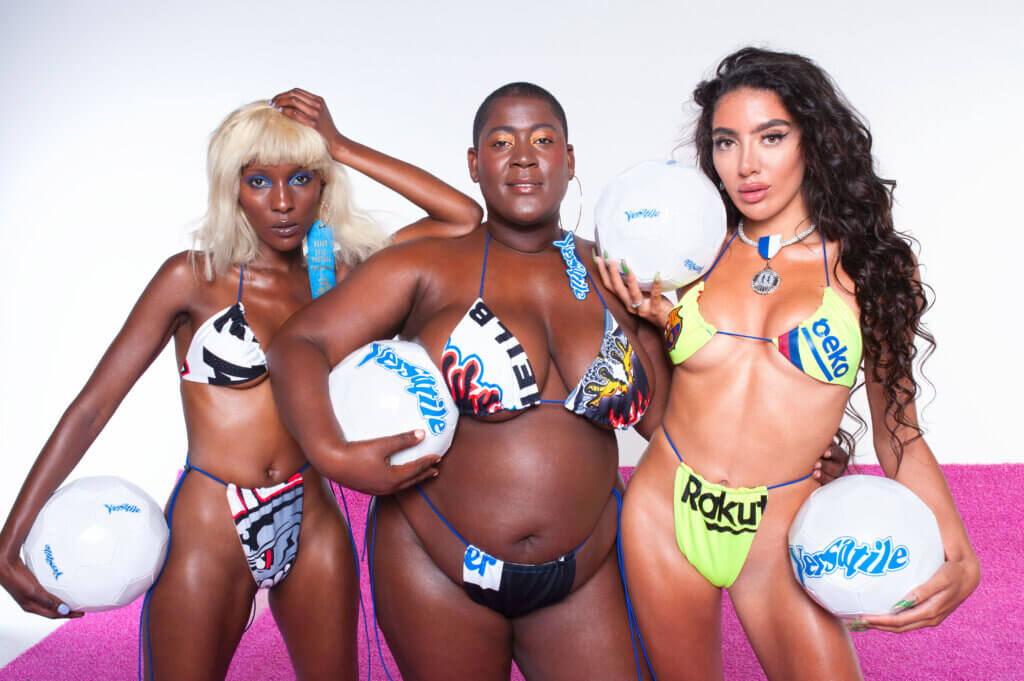 How did you get into designing and creating a brand?
After my Bachelor's, I started working as a designer in the field of commercial retail. Alongside I also worked as a stylist on more artistic projects, such as fashion editorials and styling for artists. Although I loved my work, at one point in my career I felt I was missing coherency between my strengths as an artist: my design work was mainly for commercial clients (read: fast fashion) while my styling work was solely artistic (read: the never-ending struggle of getting credited). I was missing a bigger purpose in my work where I could combine the two and so I decided to create one: my own fashion brand.
Another big reason for creating my brand is because I was getting tired of the uniformity in the current design and production process. Nobody is the same, so why should our clothing be? With Versatile Forever I want to instigate a change in the way we look at that. 
Why were bikinis your clothing item of choice?
During the process of creating samples for – what would initially be the first drop – we had a lot of leftover fabrics and scraps. Nothing is thrown away: we save all scraps in separated bins, from soccer shirt scraps to soccer scarf fringes. For this drop, I already had a rough storyline for the campaign in mind, when all of a sudden it hit me: the leftover scraps – being exactly big enough – had to be made into bikinis! So this drop is created from waste created from already discarded fabric, it's an upcycling inception! The bikinis gave the storyline even more meaning and immediately I saw the entire campaign before my eyes. This is how "Not Your Soccer Wife" was born…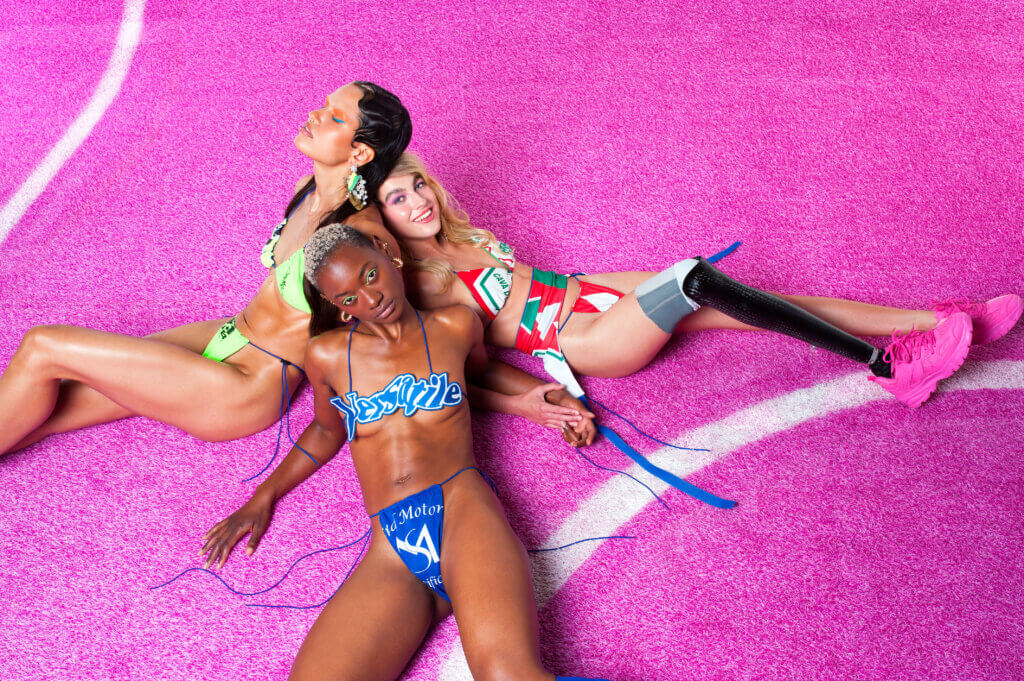 The name of your first collection is "Not Your Soccer Wife". It seems to refer to the phenomenon that women often are "the wife of-" like they themselves don't matter enough to get their own introduction. Can you tell me a little bit about this concept and why you chose this name?
I always find it very intriguing how people interpreted my work, as it's always very layered and has multiple metaphors. Yes, the "wife of-" phenomenon is definitely part of this concept. However, it's also about encouraging people of all sorts to get out there and create their own team of winners. Stop waiting until you get a spot on theirs, you're way too good to be a benchwarmer. The campaign is about being truly inclusive and diverse, not for the show but for real. Wearability and body inclusivity is extremely important and with this campaign I wanted to showcase this.
Why do you feel it's important for a fashion line to be sustainable?
I feel if you start a new (fashion) brand in 2021 you HAVE to be sustainable, fair, inclusive, and transparent. It's not a choice, it should be common sense. Even though a clothing brand can never be 100% sustainable, I believe your business should operate on these principles from the core. Since I am just starting I can calculate everything in from the get-go.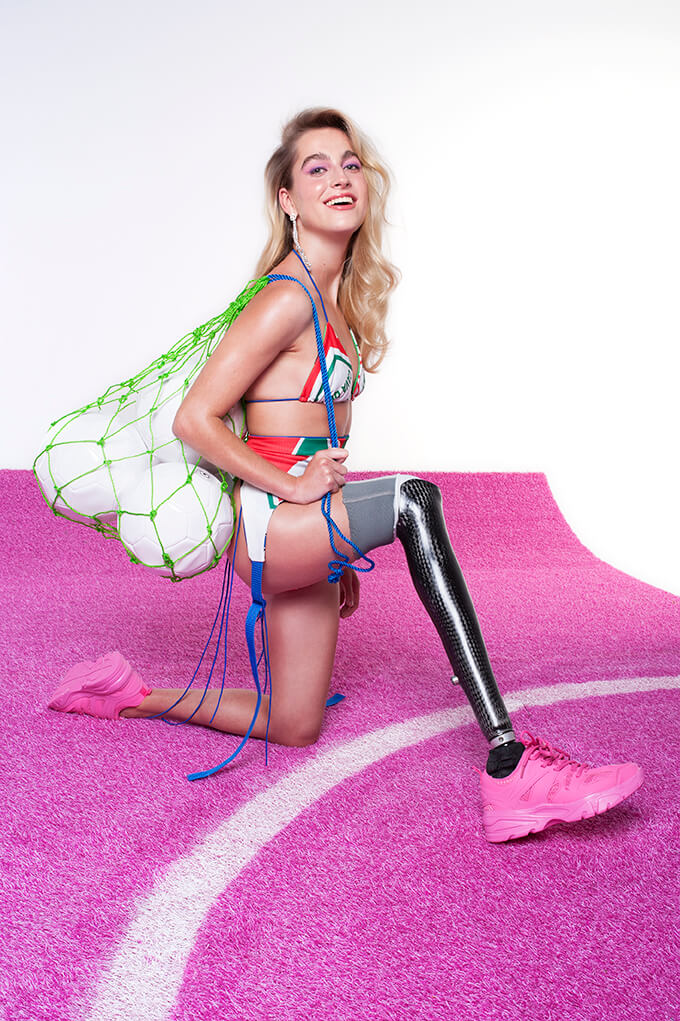 In what other ways does Versatile Forever make sure to be sustainable?
All collections are produced locally, which lowers our carbon footprint drastically. Also, the design process at Versatile Forever is considerably different from the regular: the second-hand fabrics that we work with basically decide what is possible, so designs are created within the limits of the textile. A regular design process rarely gives room for flexibility or unexpected creativity. At Versatile Forever I want to allow us to appreciate versatility between our clothing items. Ultimately we just want clothing that is really dope, the way it is made and where it came from should not be something the consumer needs to worry about, that's our responsibility!
How important is body positivity and being "inclusive" in your creating process and final products and how do you incorporate this into your work?
As I mentioned earlier, this should be the norm when doing any kind of business. Plus it's in the name: Versatile Forever. Our designs are multi wearable and should fit a wide range of body types. When creating garments this is always kept in mind. In both our campaign and on the webshop the clothing is presented on a lot of different bodies because I want to show how diverse the items are. I'm a bit allergic to the regular sizing chart, because similar to when shopping vintage, you should just try on an item and see how it fits your body! Of course, when running a webshop this is not possible, so at least it should be visible how the clothing looks on many different models.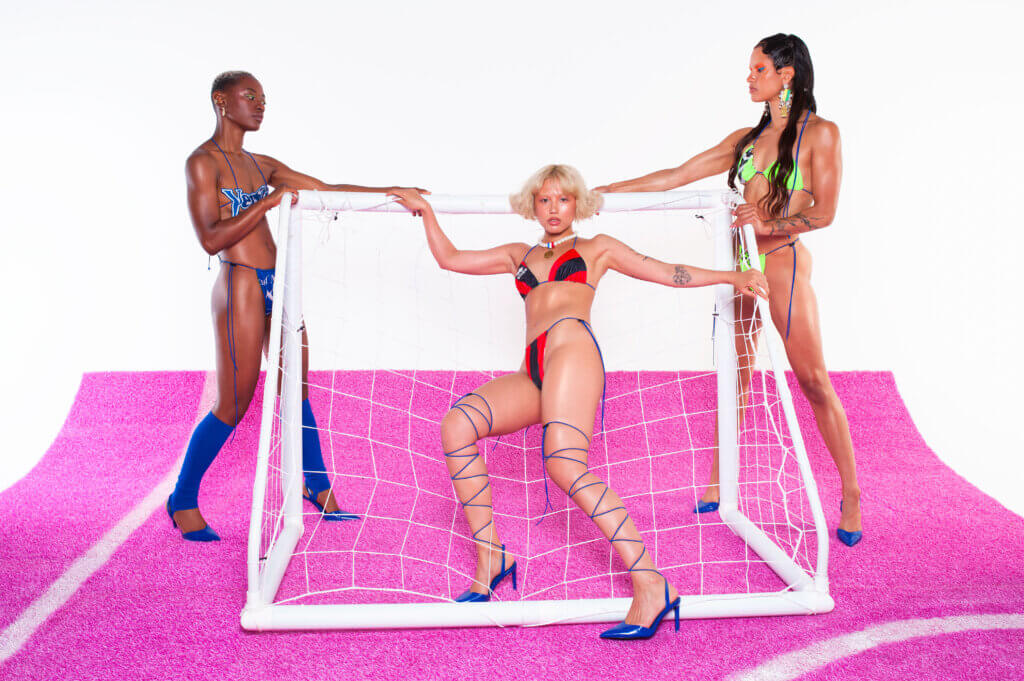 How do you make sure that your bikinis are for every woman, whatever body they come in?
The bikinis are adjustable and come in a size 1, 2 and 3 which makes them fit almost everybody. Actually, it's not a matter IF they fit, but more HOW they fit and that is up to the consumer: modest or more revealing. The bikinis are presented on different body types, along with the size range. So you can see a model wearing a size 1 but also a size 2.  Alongside a "How to measure" is created together with all specs of the bikinis. This way you can determine how a bikini will probably fit your body type, and trust me, it will look gorgeous!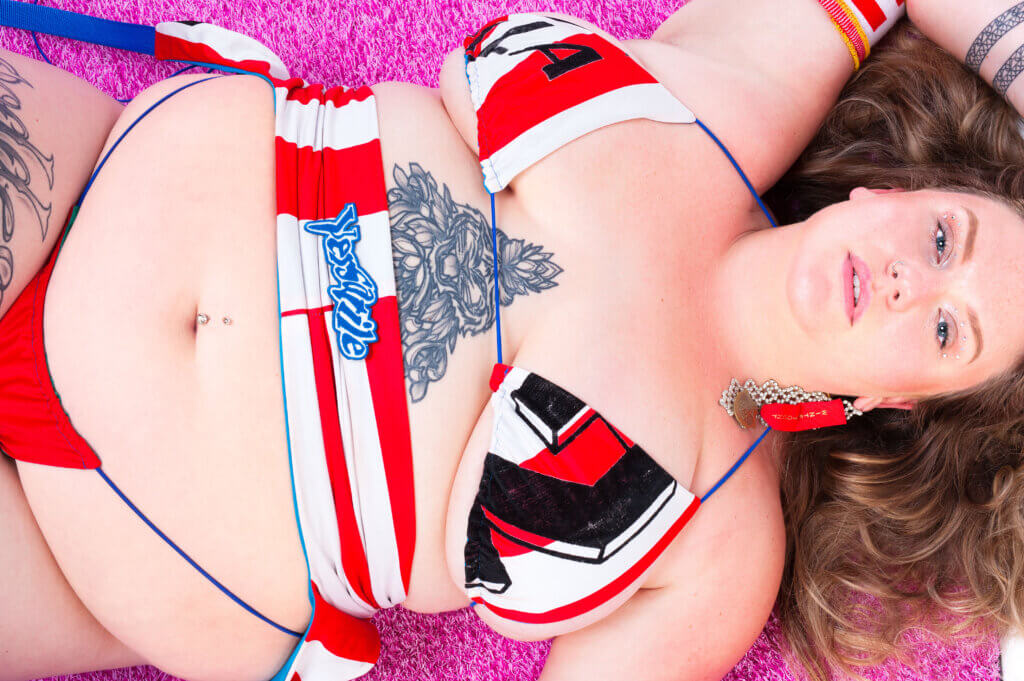 ---
To see and learn more about Inez Naomi's work, go visit the website of Versatile Forever, or Instagram VERSATILE FOREVER (@versatileforever) • Instagram-Fotos und -Videos