The stomping of dildo heels echoing through a green corridor. Everywhere she goes, she takes a bag of sour Maoam candy with her. Ella Douglas is the conceptualizer and designer who embraces her fluidity through scaling objects and performance art. Sculptures exploring themes of queerness and social commentary. The Central Saint Martin´s student adds distortions, where artificial intelligence can smurk through an argyle gown. Tartan shapes depicting graphic lines as she watches plants in water thriving. And thinking – `How would a shirt look, if the body can´t move?´
Which organism reflects your art?
A Venus fly trap in pink and yellow, luring with its nectar. With spikes – ornate and delicate – at the same time deadly. I never design something for the sake of it being pretty. I like to touch materials and textures that make you think of something. A piece of metal work or something heavenly beaded.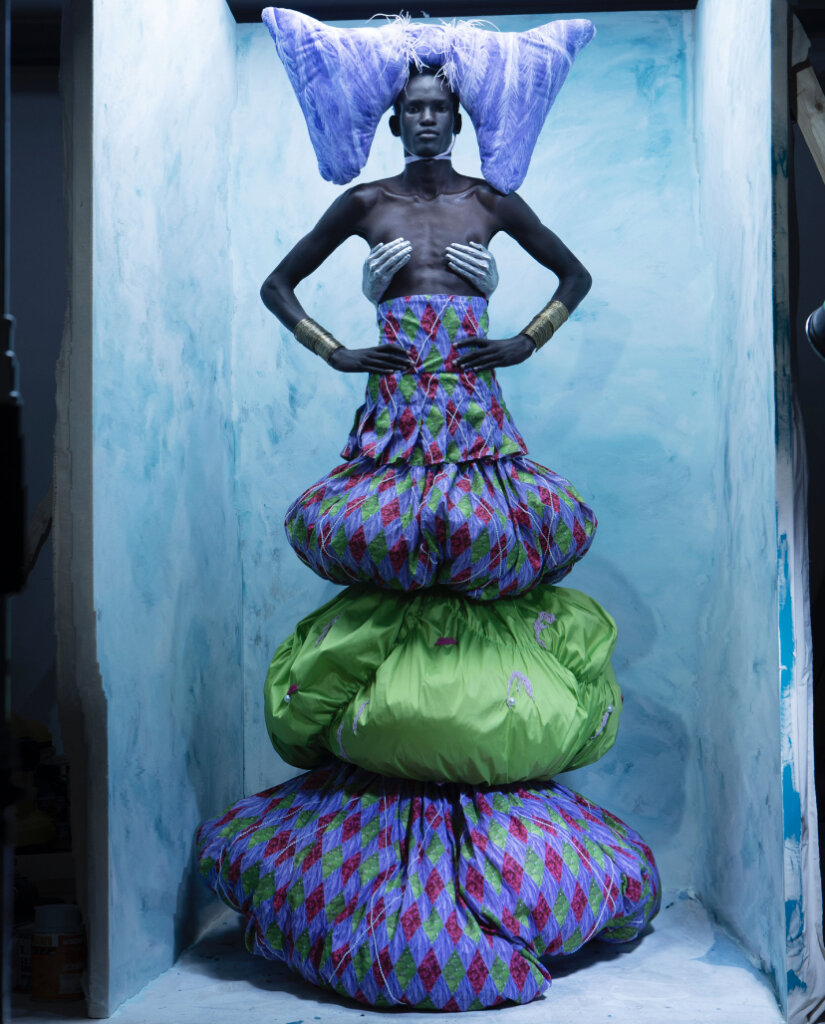 When was the first time you had an interaction with nature?
As a kid, I would go to this green park in Bournemouth, on the south coast of England. A seaside town with tulips and flower beds. I remember everything around me seemed enlarged. There was a hot air balloon, that was locked to the ground. It didn't fly off, it only kept lifting up. You could get lost, but you would find your way back. In school, I always stayed near my art table in the classroom. I did not want to step a foot outside. Today I learned to separate the environments, by being outside.
How is your home like?
I live in Archway in North London, between Camden and Holloway. The baroque place where my girlfriend and I have our weird collectables. Things we found in a cabinet of curiosities. We have this huge gold mirror – with the memory of eating lots of strawberry while spray painting it on a green field. On the table, there is a micro dish for salt gifted by my grandmother Monica. The kitchen is decorated with a Maisy Mouse painting that I received when I was one. Our radio and sewing machine are on 24/7, so if one of us is out, I still have voices around. With us, there is this one bird walking and making tapping noises on our flat roof. I never could spot it.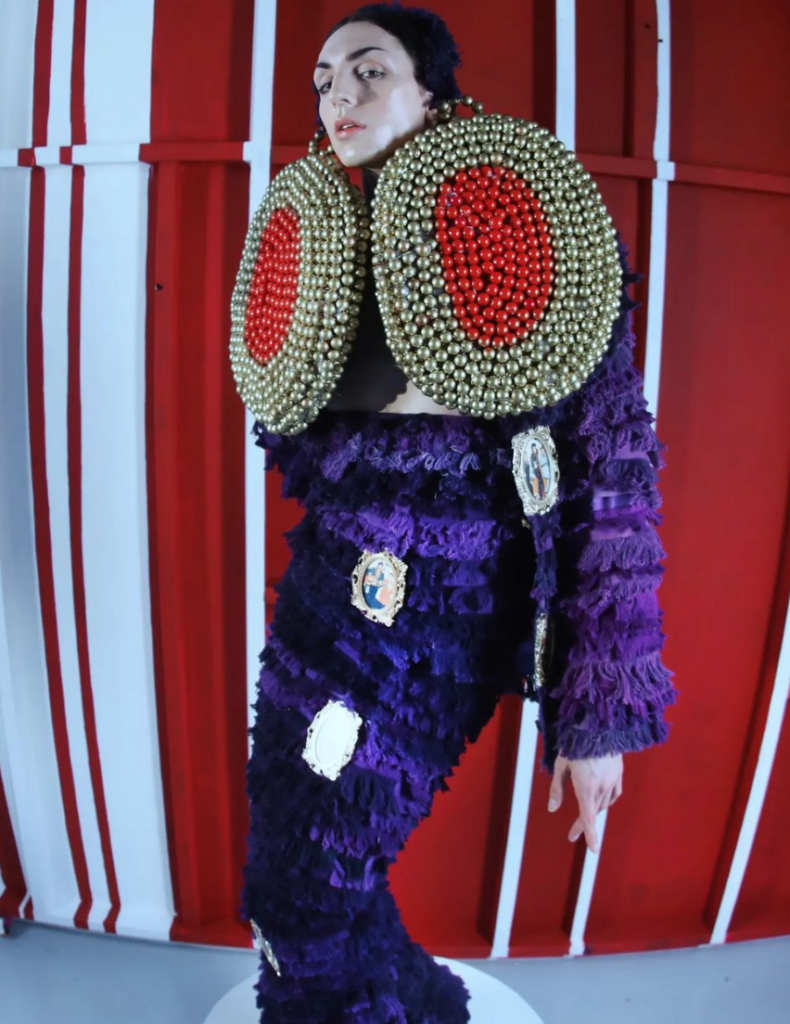 Who is the character behind the 1m earrings?
My parents had an anti-marriage in Las Vegas to annoy my dad ́s grandmother. There was an Elvis impersonator to walk my mum down the aisle. "Are you being served?" is a British program from the 80s with the main character ´Mrs. Slocomb ́. She would change her hair in every episode. It was a mixture of her with my parents wedding. The outcome were these huge earrings with some purple hair.
How do you play with distortions?
I like to slightly distort how people perceive an image. Changing the narrative enough to stimulate new ideas. In fashion, I add conceptual distortions by choosing two opposites, which would not be put together. And create the direction from there.
We had to make a traditional shirt for university. At the time, my dad just had a huge stroke. I didn't know how to cope with it. So I decided to use the feeling and design a shirt – made for a fifty year old, who can ́t move the body. How can I make an integrate shirt without using the body at all? Making the impossible. The research started with thinking about how can a shirt move. In the evening I would Facetime to my dad in hospital and show him the progress. He could not speak at the time, so it was hard to capture. But I would try and put myself in his position and question – what would I want? Now he is out of there, looking at the sketches, he says it is mad. A piece of time that is stuck in the past. And we both can say we are done with it now.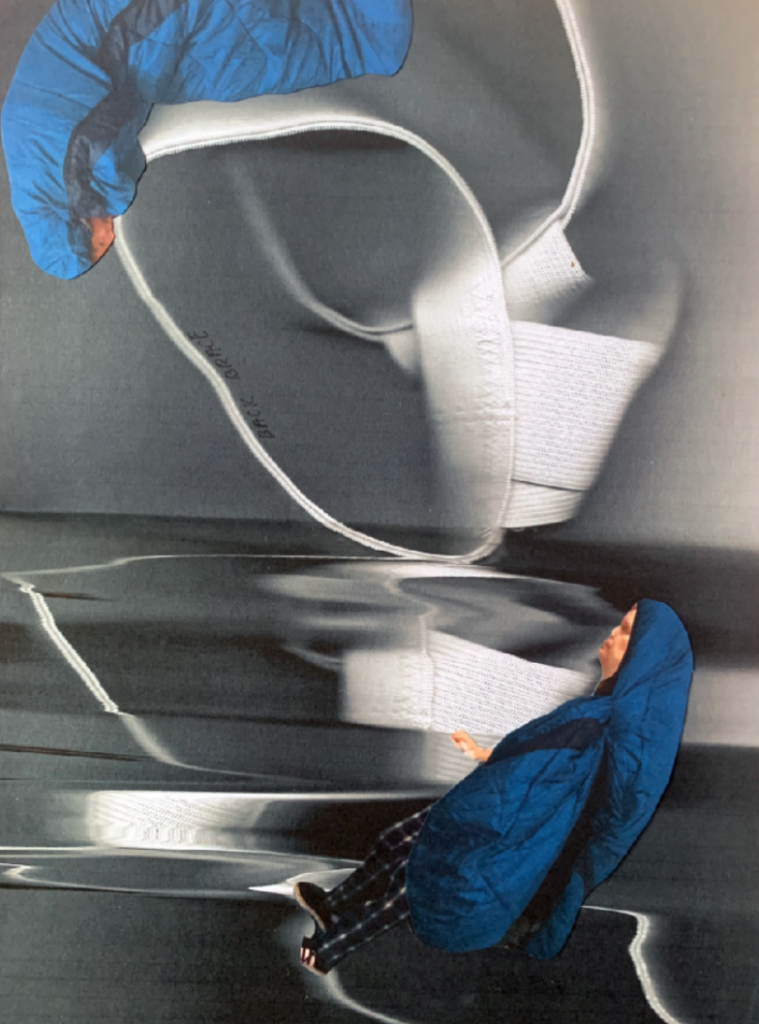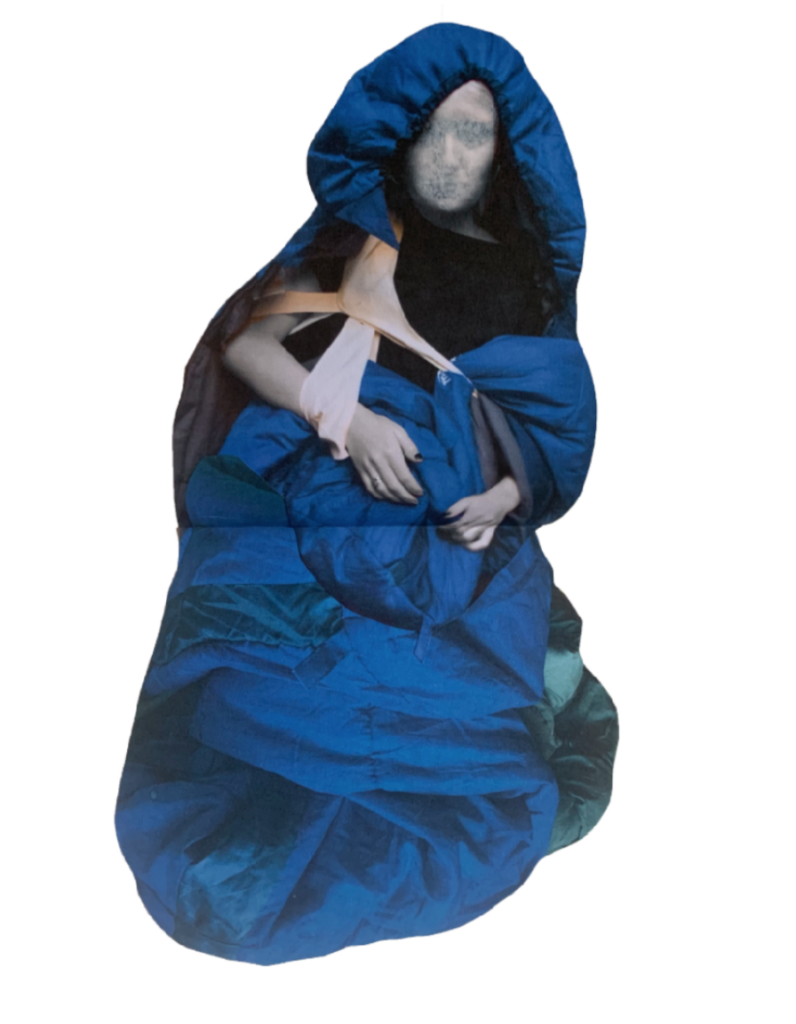 How would you describe your own visual language, if you had to invent one?
For me jumping is often an instant response for excitement. A release of emotions – not an athletic jump, just bounces – where you put in energy for the outcome. Having that for expressive emotions and the sounds of rings on fingers for casual chats.

Header Image
Photography edit / 3D set design @gioiacheungphotos @arufasion @_sj__lee 
Model @siuhei_dd Hair @ch3rrrry 
Make Up @alberto.papparotto@snadisbirtaa 
Designers @ella.i.douglas @h.stenko @qiqineverwearnopanties @aliuznkopru @beril_0ktem @chezzachooun @patrickjgarvey @cara_do_cara @taehuniy @just_like_asparagus 
Fabrics @nona_source @maisonzero