If there's one thing missing in Berlin's fashion scene, it's exactly what SF1OG brings to the table. Led by the creative direction of Rosa Marga Dahl and the management of Jacob Langemeyer, this label has become a force to be reckoned with since its establishment in 2019.
So what sets SF1OG apart? It's a unique blend of deconstructed garments and classic cuts, inspired by the city's clubbing aesthetics and understated fashion. This aesthetic is beautifully complemented by a recurring neutral color palette. However, SF1OG goes beyond surface-level appeal. Their collections embody sustainability, craftsmanship, and innovation. They offer two distinct product lines: custom-made and ready-to-wear.
But SF1OG is more than just aesthetics and business. The label is deeply rooted in personal and collective stories, drawing inspiration from private, cultural, and political narratives. These stories serve as the starting point for their design process and are brought to life through their shows. In their AW23 collection, "Artifact," SF1OG explored the forgotten stories hidden within everyday objects. Each garment became a metaphorical and tangible embodiment of its own narrative, intersecting with Rosa's present to create new stories—a fusion of elements from different times and spaces.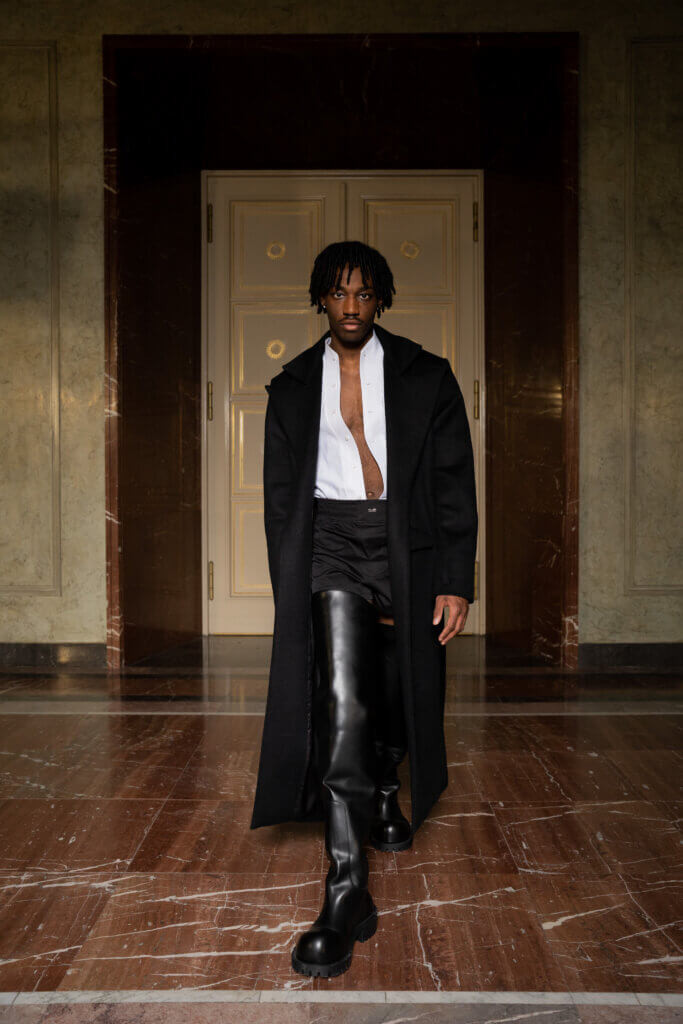 Hello Rosa, it's very exciting to be in touch with you! Let's begin by sharing some facts regarding your career and the founding of SF1OG. How did it happen?
I think it began when I was a child and worked on creative projects with my dad. We always used materials that were laying around in the house and crafted some artworks with them. When I was 10, my mom taught me how to sew and I started researching like crazy how I could make my own garments. This pretty much led me to study fashion design in Berlin. During my studies, I was missing a project that was ruled by my own thoughts so at one point I started my own brand meant to be a project for a creative outlet, mostly.
What does SF1OG intend to capture?
SF1OG wants to show the value that clothing can transport. Every design refers to a memory, which might be personal or captured in an old photo or from a person I've spoken to. SF1OG garments tell a story of the past and present, and it shows an option for the future. We work a lot with old materials like linen from 1910 or imperfect leather dead stock, because these also tell a story on their own.
The AW23 collection was all about exploring stories—the stories of those pre-loved garments. How did it bring attention to the use of existing materials?
The AW23/24 collection is about telling forgotten memories. In the design process, I went to an antique store and bought a lot of old photos and postcards from people who lived in Berlin between 1900 and 1980. Photos carry small glimpses of moments that have been forgotten as well as aesthetic information of the past. I tried to transport the feelings I had when I looked at them as well as special details that I found.
How do you maintain the balance between opposites, given that Artefact tiptoed the line between what represents old foundations of bureaucracy and power against progressive fashion; the juxtaposition of a zeitgeist culture and a singular history? Where do you stand?
I think what creates the balance is that I am always looking at the past with my present view. When creating, you will always be influenced by what you know and what surrounds you. It comes naturally and is formed by everyone you meet and everything you see. I believe that if you want to create something that can be progressive you always have to understand the past as well, because it is the past what's formed the current zeitgeist.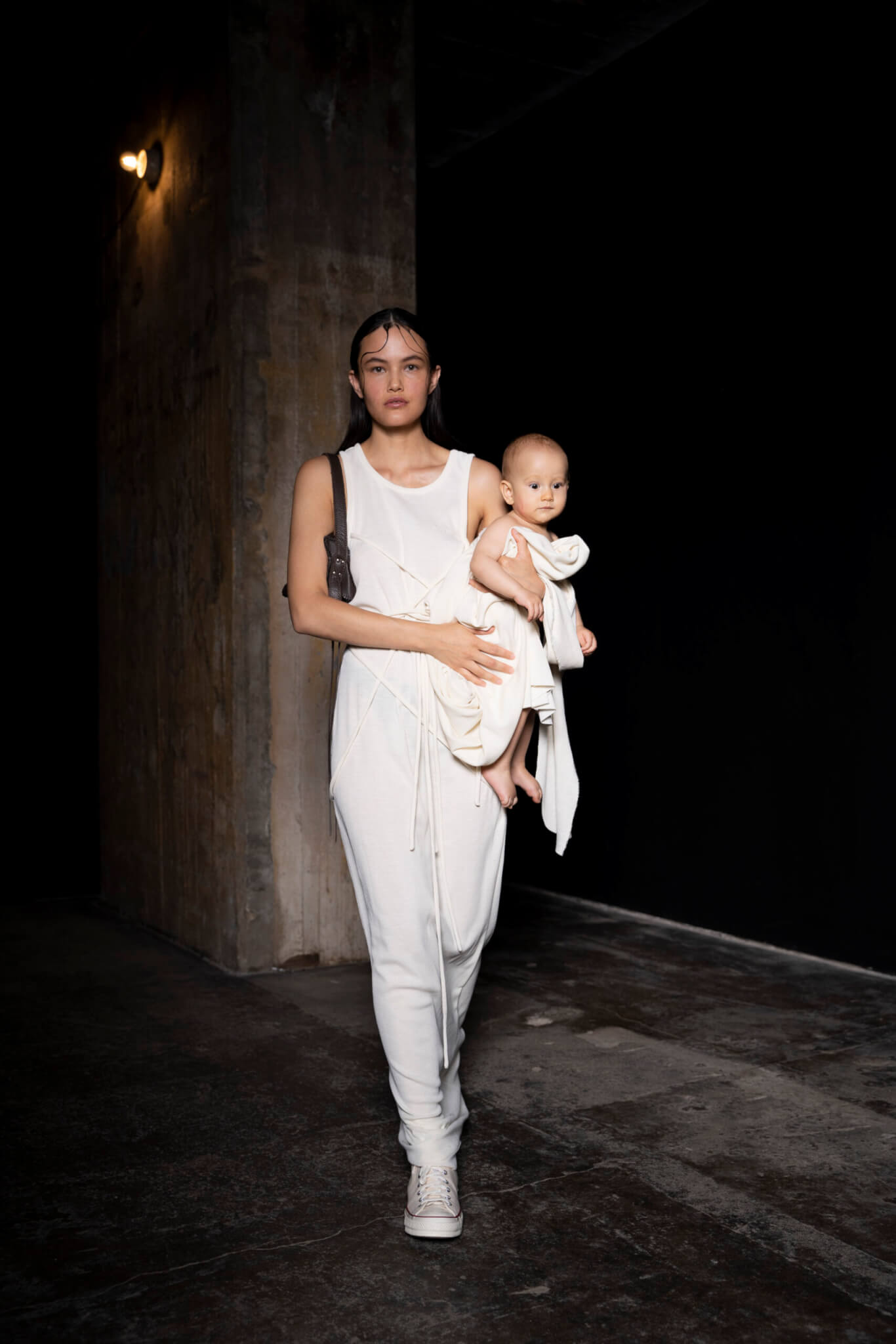 Your SS23 collection had an interesting casting: young and older people of various looks, a mom with her baby and even a dog walking down the catwalk. Did you plan it that way or did the different personalities organically come together?
It is very important to me to show that everyone can wear my garments and feel beautiful in them. The dog came as a natural decision. The studio's landlord was running around during the casting session and Kyra, our casting director, said, "why not put her in the show as well!"
Also, the mom with the baby came to the casting with her family, just the way she actually lives, and we thought this was beautiful to show in real life.
And what was on your mind for the casting of the Artifact show?
We worked with Kyra again this time. Just like the last time, we were going for a diverse and interesting cast of strong people that seemed to be made for the looks they wore. Of course, this time there was no baby, because there was no family at the casting. We do not try to force these things. And dogs sadly were not allowed in the venue, otherwise I would have probably brought my own, since I just became a mom myself.
What feedback or remark regarding one of your collections have you received and will never forget?
The feedback from my dad for the SS23 collection. Because the collection was basically about him and our work that we used to do together, my creative roots I would say. He was reading all articles about the show and then wrote me a very long message that is obviously private but it meant the world to me.
What's coming up next for SF1OG?
After the last 3 shows that we did without a break, we are finally focusing on going into production. We want to offer more products to the people that are interested in our vision. Of course, we are also working on new projects that focus on communicating and showcasing what we stand for. For SS24, we are planning a different way of presenting our collection, but I won't tell too much. You will see!