A caterpillar mummified with gems, playing in front of the mirror. Fine bristles of a brush scraping against an eyeshadow. The make-up artist Berny Ferr picks up waste materials and uncovers their potential with his fingertips. He employs upcycling techniques to transform faces into new worlds. From the artform of Drag to contouring "Earth Twins" of another exoplanet. The 5th place contestant from the BBC show Glow up Season 2, knows how a PlantSim would look like if they hit the club. To give free rein to his handcraft, Berny unites contrast colors that blur into each other. Innovation happens when his discoveries are studied with a mycological curiosity of its own.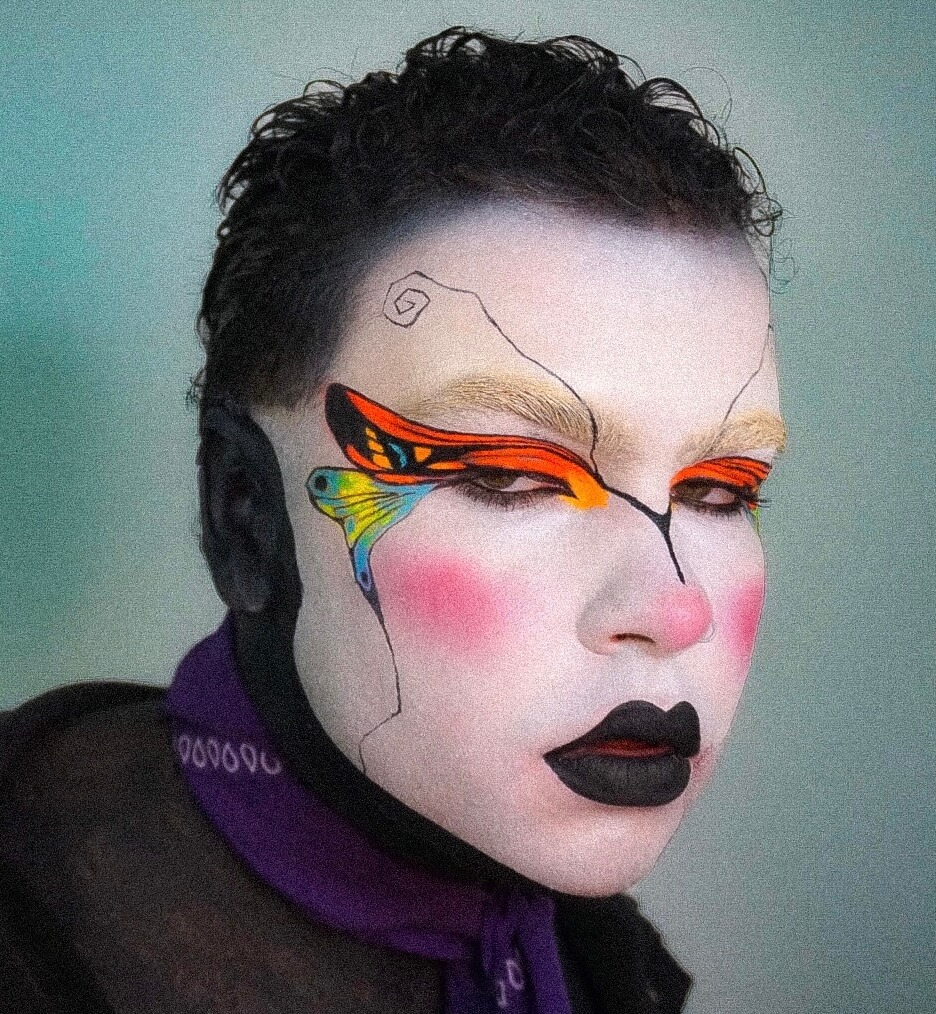 What fascinated you as a child?
I remember my sister showing me this film called "Party Monster" when I was about thirteen. And it is about the club kid subculture in the late eighties and early nineties. With Michael Alig running through the New York nightlife. A lot of my work is inspired by electronic sounds, techno and high bpm – the filthier the better. With sharp lines and structure, my work can go from controlled messiness to prim and proper. Add to that the time when I discovered Alice Glass and Grimes. They shaped me as the artist and queer person I am today.
What are some personal habits of yours?
I am a neurodiverse character with a collection of habits. One of them is the paper label on soft toys. The texture soothes me when I run my fingertips over the edges of the paper. I have been doing this since my childhood, and I still do it now, at the age of twenty-four.
"One of them is the paper label on soft toys. The texture soothes me when I run my fingertips over the edges of the paper."
What objects and sounds surround you in your home?
I am surrounded by the sound of my new rescue cat Zuko, running back and forth like a pendulum swinging. In the background you can hear anime, from "Attack on Titan" to "Steins Gate", I have watched hundreds. In my make-up room lives my mascot Sandra. She is a hair block from the time when I studied hair in university. I have not done hair since, so I kept her as a companion. My dad and I are sharing a home since he raised me. We have an old welsh cabinet in the kitchen, an accordion in the living room as well as a vintage violin. There is quirky little nifty bits all over the house. It is like a labyrinth of things.
How would you call your own (visual) language?
Make-up with interactive tools. Recently I attached a candle to my nose. I blended it in by using SFX wax, lit the candle and my cigarette. Once I used plastic bottles and reconstructed their containers into small aquariums. I attached them to the sides of my forehead. Through upcycling techniques, I allow the waste to speak for itself. All you need is basic prosthetic application. See what fits your face and what adheres to the skin properly. I would love to find a way to allow heavier objects being attached to my face. Can you imagine the looks if we had the ability to defy physics? I would attach a helicopter propeller to my head so I could fly anywhere.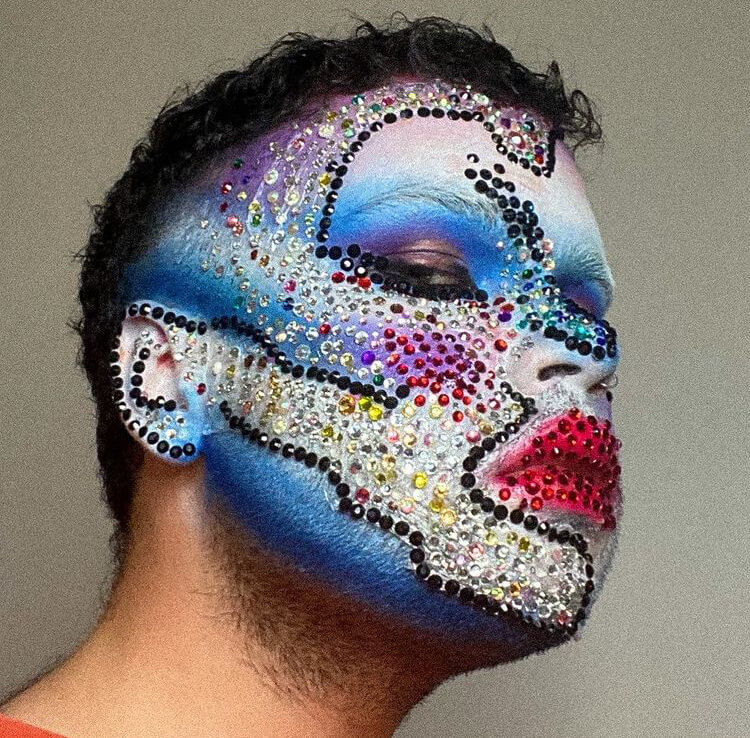 Which Make-up character would you wear every day ?
I would most likely wear my tropical moth look, because it is fierce and chic. To switch it up, I would hum to Shygirl as a bumble bee character.
How does metamorphosis integrate in your work?
During my no make-up state, I feel like a cocoon. The process of each look allows me to shed my skin and become something different every time. To experiment and to transform means to morph into many different ideas. That could involve a character, an insect or a pretty looking leaf waving at you from the garden.
Make-up, a tool to play with _________ ?
Imagination and Identity. Make-up is a playground to become whatever you want to be. Walking through the rooms with thin high heels in Portugal, I remember showing up in my grandmother´s long dressing gowns. It felt right to be powerful and sassy. I come from a traditional Portuguese background where gender roles are enforced, and whilst my family is fully accepting and open now, there were people who didn't meet me with much contentment when exploring my canvas as a child. That moment, I felt the need to counteract and challenge the idea of conventional beauty. Dismantle the heteropatriarchy and let all the queerness flourish.