DC Shoes was founded in 1994 by skaters Damon Way and Ken Block, known for their pioneer work in "extreme action sports" – skating, BMX and snowboarding – but the brand history actually started in 1989, when they started the clothing brands Eightball, which they soon expanded into their next venture Droors Clothing. Ok, now we already found out what DC stands for…
Way and Block knew that they wanted to produce a shoe perfectly fitted for skateboarders – more sports equipment than pure fashion. And who knows better about what skaters actually need than skaters themselves? Their brand quickly found success and DC became the skate shoe of choice.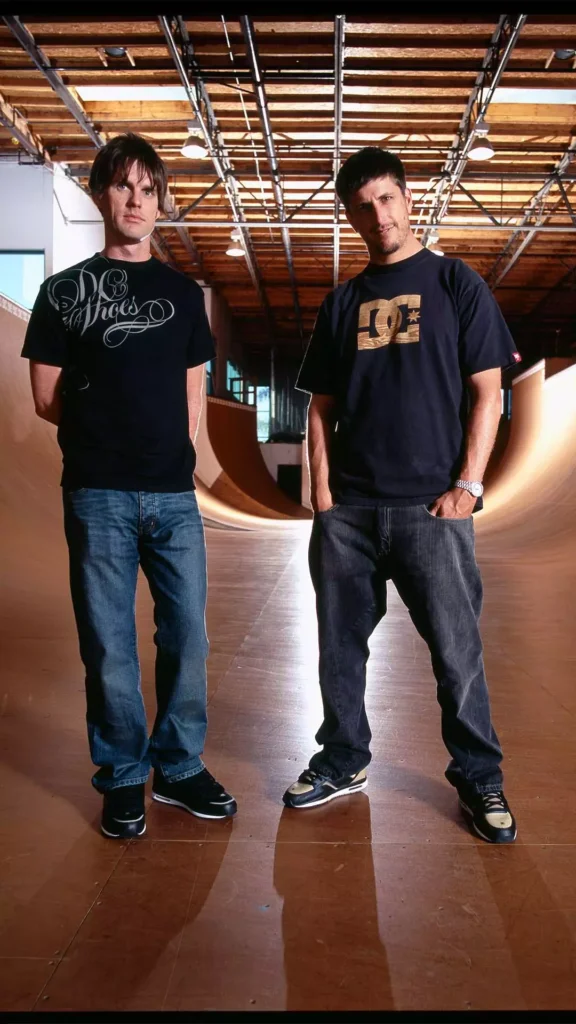 Their preferred way of promotion was their skate team, which also starred in their infamous 2004 skate video THE DC VIDEO. This monumental piece of skate history featured pro skaters Colin McKay, Rob Dyrdek, Josh Kalis, Stevie Williams, Anthony Van Engelen and Brian Wenning among others and is rightly so regarded as a classic. They were one of the realest and most visible footwear brands – worn by skaters and everybody who desperately wanted to appear as cool as them.
Who is Lucien Clarke?
DC Shoes recently announced their engagement with Lucien Clarke, the pro skater equally known for his artistic works as a photographer, his recently released skate shoe collab with Louis Vuitton and for being one of the most recognizable faces in every Supreme or Palace lookbook.
He also walked in Virgil Abloh's first LV show, which brought his likeness to a whole new audience not familiar with skateboarding culture before.
But even though Clarke is undoubtedly one of the poster boys of the skate and streetwear merger with high fashion… Is that enough to make a pair of DC Shoes desirable again?
Is it finally time for a skate shoe renaissance?
Several years ago LA-bred cult streetwear brand The Hundreds retroed the Osiris D3 – a late 90's skate shoe with an iconic status as huge as the ultra chunky sneaker itself. It was a nice blast from the past and the accompanying photo shoot featuring Limp Bizkit's lead singer Fred Durst surely brought out some nostalgic smirks, but nobody started wearing Osiris again because of that. Skateboarding professional Tony Fergusson also started his own already more luxury orientated brand RONE with the goal of re-releasing classic out-of-stock skate shoe silhouettes in a more luxurious leather get-up. It did not get a huge exposure, at least not in Europe. A$AP Rocky's 2018 collaboration with Under Armour was instantly called-out by Osiris for biting their classic silhouettes. They go for good money on websites like StockX, but the only skate shoe that really found it's way to streetwear's cool kids over the last years was definitely the Nike SB Dunk.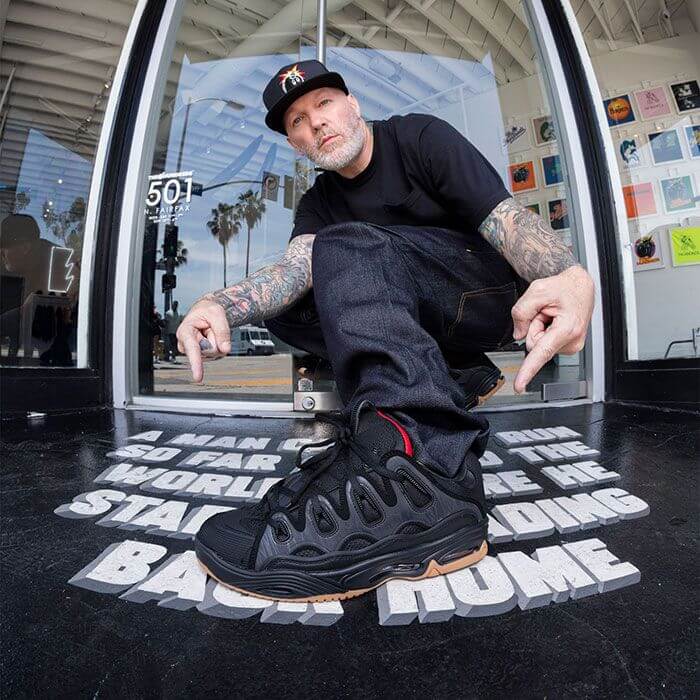 But you have to remember that when Nike debuted the SB Dunk, they were met with rejection by the skate community. Everybody hated the idea of corporate giant Nike now trying to get their share of skate culture.
Sneakerheads on the other hand loved the shoe and made it into a fashion phenomenon. But does that mean that the mainstream only likes skate if it is in collab with a non skate brand?
DC has potential. They have the right history and now they have somebody in charge who not only understands, but does not oppose the current state of fashion and skate. Collaborations in skate shoes were never as widespread as it is nowadays in "ordinary" sneaker culture, but DC was always ahead of it's time, when they for example released their Artist Collection in 2001. It featured a handful of artist including Obey's Shepard Fairey, Aaron Rose, Dave Kinsey, Phil Frost and a little known artist named Kaws. Yes, this Kaws. It was the first time Kaws put his nowadays globally known art on a sneaker. What else appeared on a DC shoe for the first time? Supreme's notorious box logo.
We will see what Lucien Clarke and DC are cooking up – but with the rich brand history and the changes in fashion we saw over the last few years – it is far from unlikely to not spot these classic end of the 90's / Y2K sneakers on the streets real soon. Some brands may have tried too early to start a comeback, but now DC might just be on time.