When discussing American streetwear, it's common to contemplate whether to center your thoughts around the brand that is always at the forefront of everyone's minds. Whether it's the original East Coast boom of the early '90s, the "if you know, you know" days of the early-to-mid 2000s, the social media-driven explosion of the early 2010s, or the present era of combining runway and street style, all paths seem to lead back to that brand that every young child is sporting at the local airport's international terminal, starting with an "S," with its bustling store at 194 Lafayette Street in New York City.
Noah, the casual menswear label by creative director Brendon Babenzien, falls into this category. Babenzien, who founded the environmentally conscious menswear brand and previously served as the creative director of Supreme, has successfully carved out a comfortable niche for Noah in recent years. It has become a safe haven for both well-seasoned individuals and style-savvy younger generations seeking on-point pieces that transcend the current hype, hysteria, security guards, and velvet ropes associated with obtaining a box logo these days.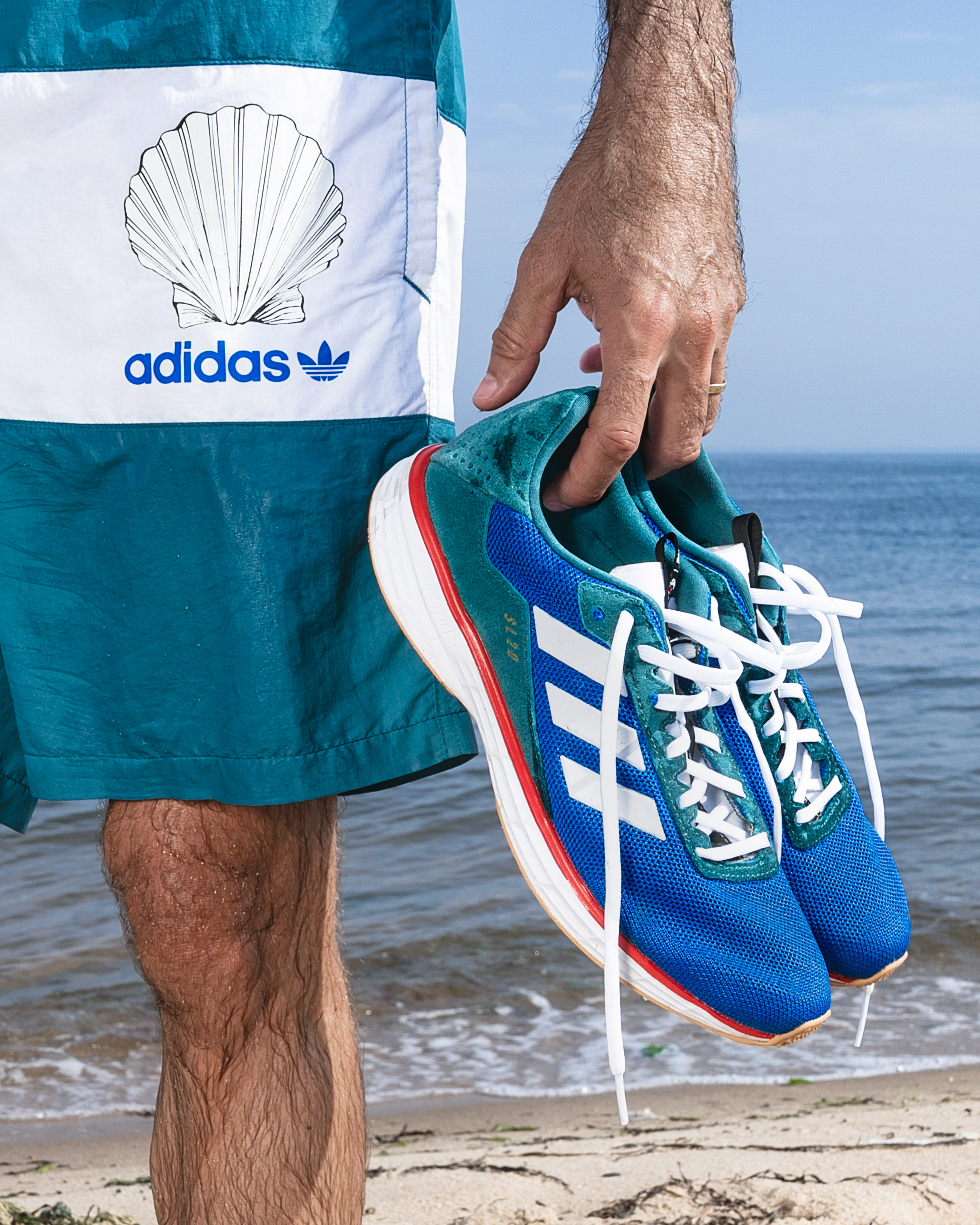 ‍For decades, Adidas has been collaborating with fashion pioneers. Continuing in this vein, the German sportswear brand has teamed up with the acclaimed New York label Noah for a collaborative collection that encompasses performance gear as well as trefoil-branded products.
This collaboration merges Noah's diverse range of influences with Adidas' sporting heritage, resulting in a collection that simultaneously celebrates performance running technology and archival aesthetics. Rooted in Babenzien's memories of growing up on Long Island and exploring New York City as a teenager, Noah's label combines various styles, including skate, prep, nautical, and classic menswear, to consistently create elevated pieces.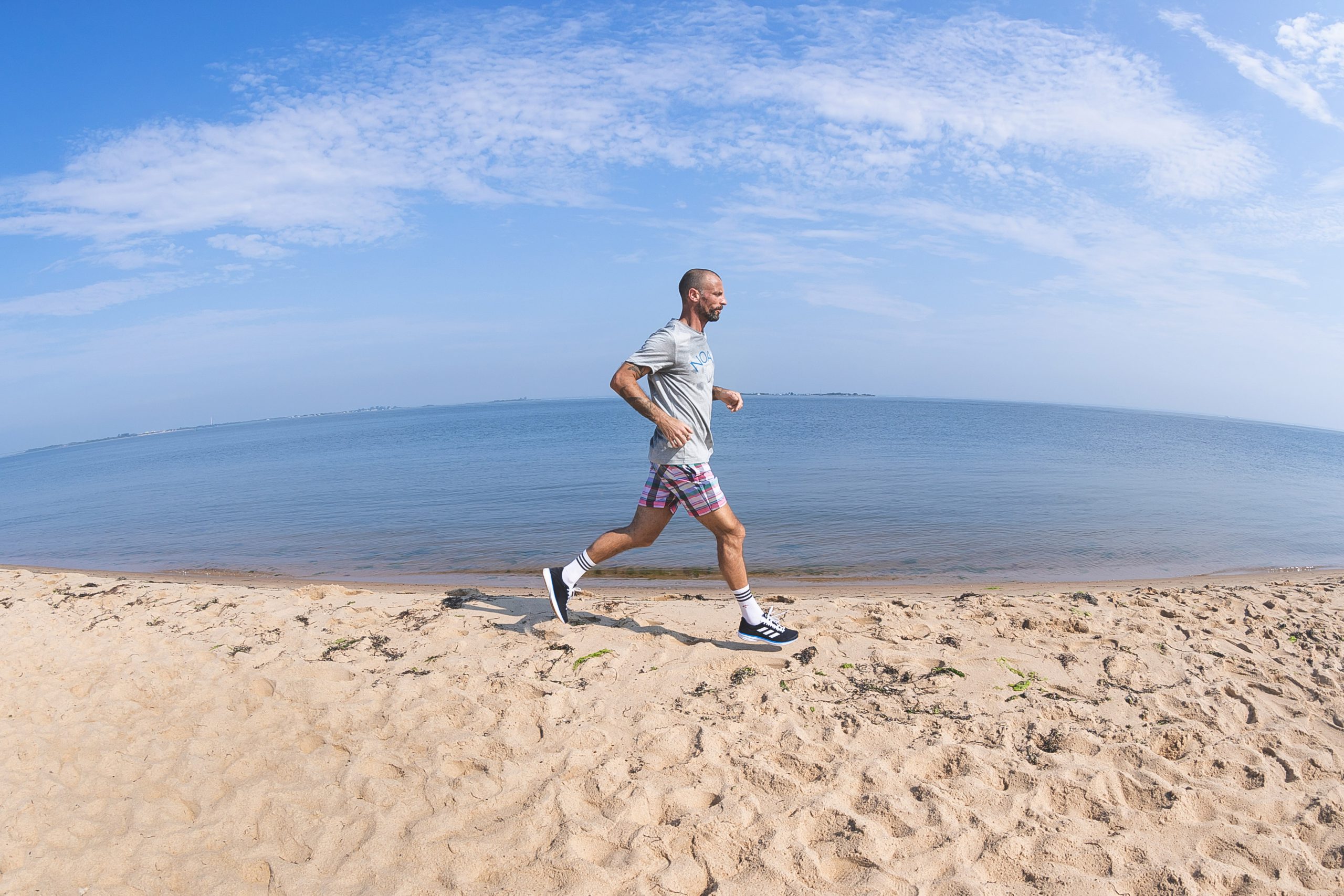 When discussing Noah, it's reminiscent of the brand's energy that has fueled its growth—a deliberate move away from Supreme. One of the most intriguing outcomes of Supreme's expansion into mainstream culture in recent years is the space it has created for numerous offshoots and side projects to thrive and cater to a more discerning clientele. Previously, the simple, stylish, and slightly premium category of streetwear was largely monopolized by the New York skate brand. However, this saturation has given rise to customers craving clothing that is not necessarily distinct, but rather apparent and often overlooked.
Noah, as you know it today, emerged on the scene during the Fall/Winter season of 2015, following Babenzien's departure from Supreme a few seasons prior. However, the brand's history actually dates back a little further. Babenzien first introduced Noah in 2006, debuting his label at New York Fashion Week with a full runway show before temporarily shelving the brand. Although images of that collection are scarce, the few available photos in savvy corners of the internet provide glimpses of what the brand would eventually become a decade later—imagine long-haired beach bum models and nautical ropes lining the runway.
In essence, Noah is a brand where Babenzien wears his heart on his sleeve, and this passion is evident at every level. Whether collaborating with bands, brands, or like-minded creators, there is a deeply personal thread running through all of Noah's output.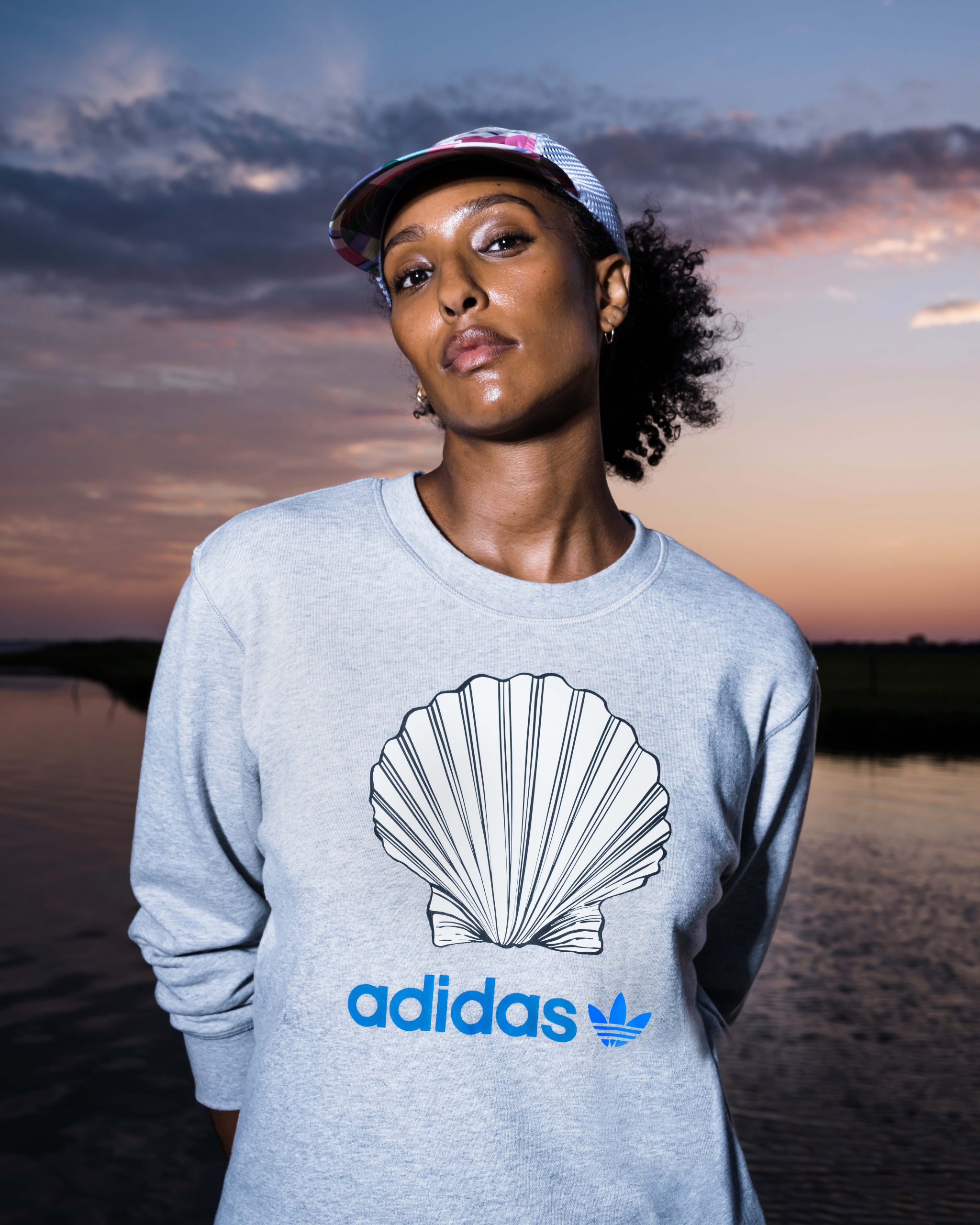 This commitment extends to deep political involvement as well. Since Noah's resurgence in 2015, Babenzien has expressed a desire to reclaim space in the streetwear scene for meaningful dialogue, conversation, and collaboration that goes beyond merely placing two logos on a label. Both the designer and the brand have increasingly become outspoken on various social, cultural, and political issues.
The question of whether conscious consumerism is possible looms over the fashion industry, and Babenzien is certainly grappling with it. At the very least, he aims to raise awareness and has made strides in informing and educating his customers, many of whom are already aware of the brand's message and their own role in these issues.
Noah has also actively involved itself in numerous pressing social causes of our time. Leveraging its popularity and hype, the brand has used limited edition product releases to raise funds for initiatives such as Black Lives Matter, Generation Citizen, and the ACLU. Noah's blog serves as a vocal platform for promoting fundraising drives, charitable causes, and activist organizations. It seeks to educate customers about a world beyond brands at a time when brands have become our world.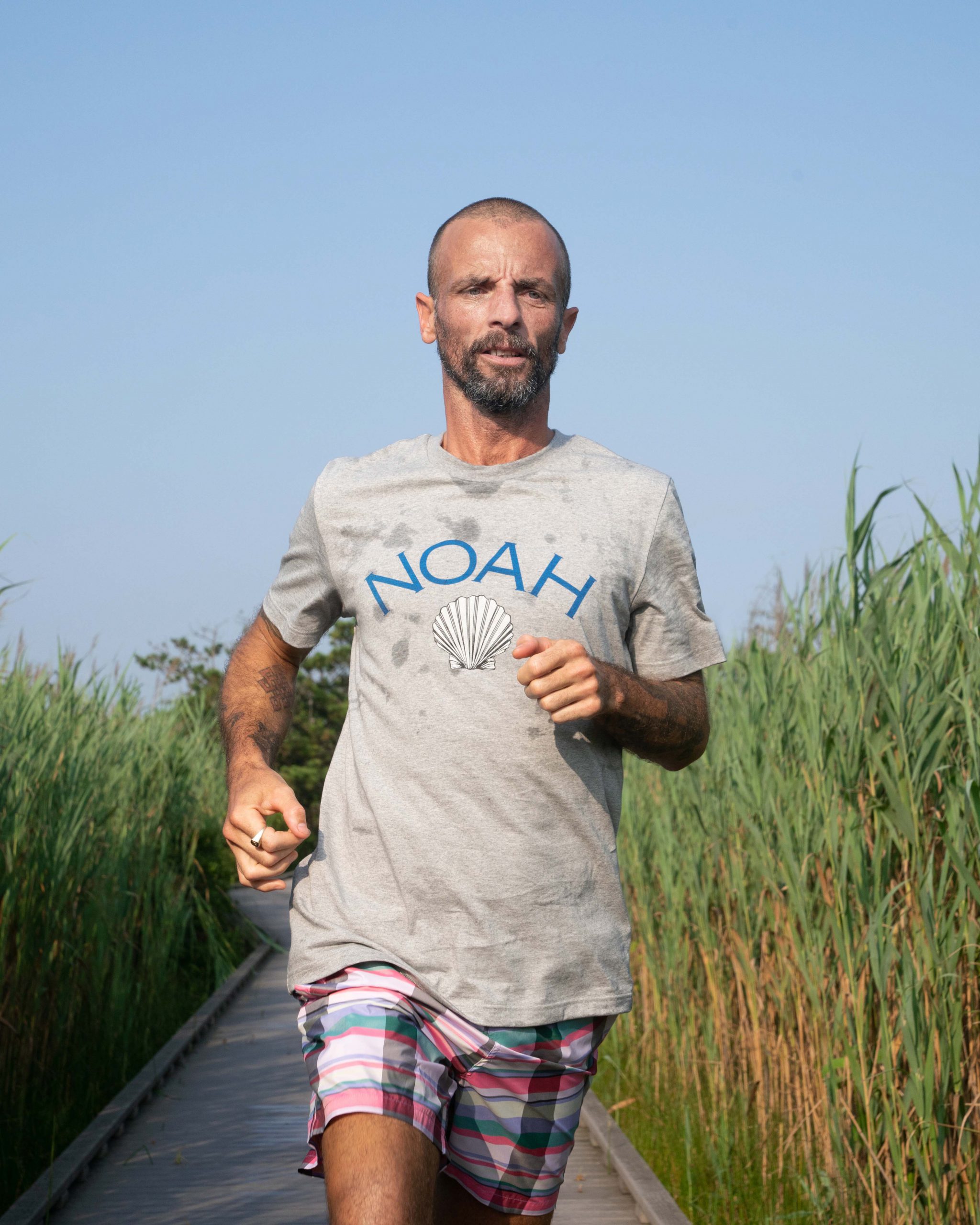 Therefore, we are extremely curious to see how this new collaboration between the New York brand and Germany unfolds.
The central theme of this collaboration is an appreciation for the oceans. Both footwear silhouettes offered in the collection feature Primeblue—a high-performance recycled material made, in part, with Parley Ocean Plastic. This material upcycles plastic waste collected from remote islands, beaches, coastal communities, and shorelines, preventing it from polluting our oceans.
This dedication to the oceans is reflected in a shell graphic that appears throughout the lifestyle offerings of the collection. The graphic draws attention to the damage inflicted on the shellfishing industry in Long Island and the rising sea temperatures, serving as a call to society to show greater respect for our seas.
---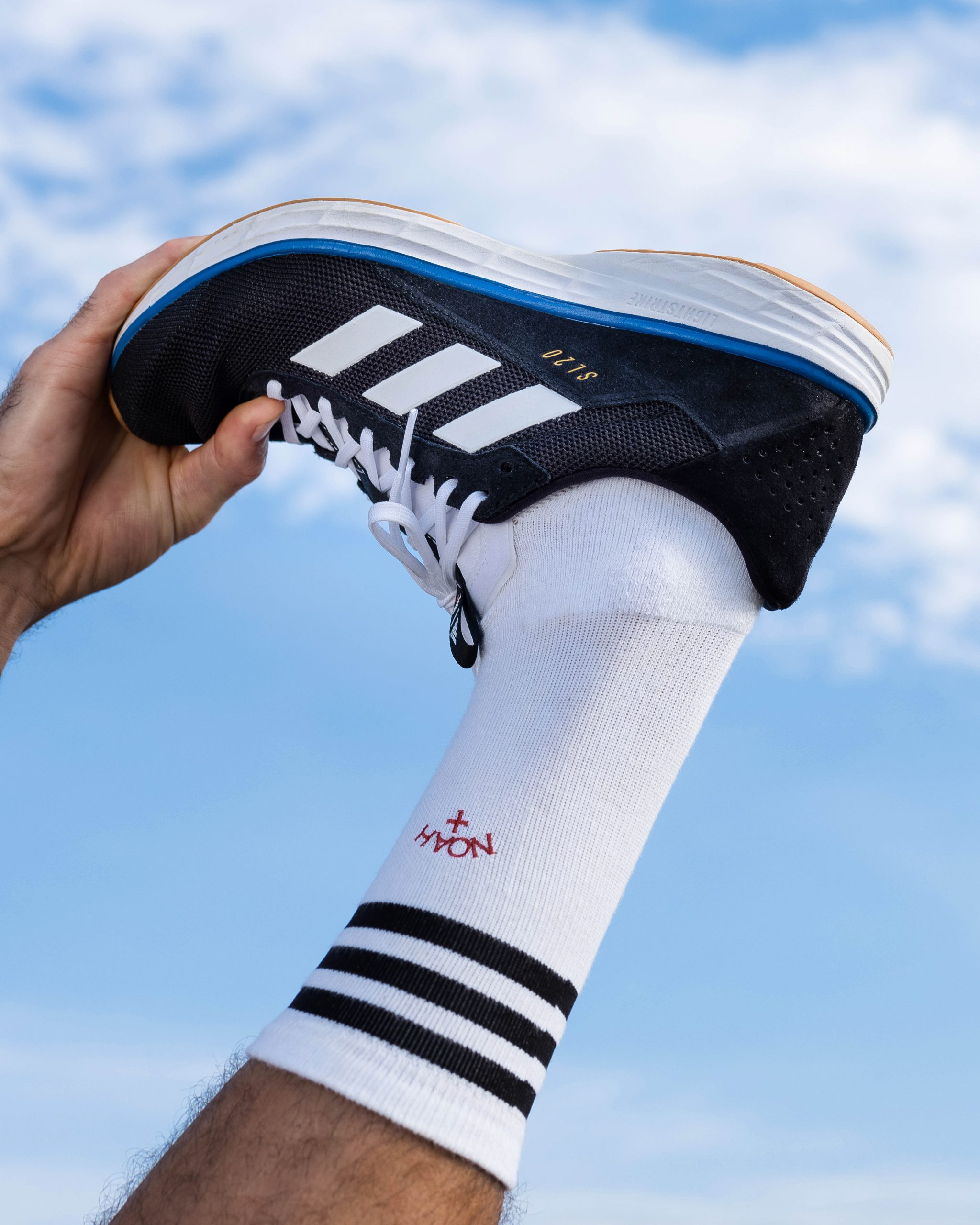 ‍
The lifestyle segment of the collection, designed for before and after sports activities, offers Noah's understated interpretation of iconic trefoil-branded products. This includes the archival SL72 silhouette with 82% recycled Prime Blue knitted uppers, a seashell graphic shoulder bag, and a pack of three co-branded cotton socks. Additionally, the collection features performance-focused apparel and footwear made entirely from 100% recycled polyester. It showcases a specially crafted madras print that is exclusive to this collaboration.
The adidas Originals by Noah collection will launch globally on August 27th, available on adidas.com and exclusively on Confirmed in NAM (North America).