Online retail giant Mr. Porter has joined forces with James Harris and Lawrence Schlossman, the hosts of NY-based fashion podcast Throwing Fits for a collaboration including 13 different designers on 74 different items. Yes, you read that right. 74 items by 13 different designers. All carefully curated by Throwing Fits or as they call themselves "the only podcast that matters".
Harris and Schlossman started Throwing Fits – back then called Failing Upwards – in 2016. Their humorous, but deeply enthusiastic and devoted view on fashion earned them a cult following with guest appearances ranging from fashion insiders to Hollywood stars. Through their podcast listeners / the "Throw Gang" from all over the world got a glimpse into the down town NY fashion scene, newest trends and what's most interesting – an authentic inside into the fashion industry. Another important branch of their brand are their social media channels on Twitter, Instagram and TikTok. They are peak fashion meme content and underline their tongue in cheek approach on fashion journalism.
Both Harris and Schlossman are alumni of a special generation. A generation that used the freedom of blogging websites like tumblr to run free and invent a new way of fashion journalism.
They describe their show as "two grown dirtbags just tryna navigate the male zeitgeist" and that's exactly what they are doing. And over time they themselves have become a brand. They are cultural curators with an opinion on fashion as important for the next season as the newest Supreme or Stüssy look book. In fact they are the water-cooler conversation at said brands offices.
What makes the podcast and the now releasing collaborated work with Mr. Porter stand out is the boys enthusiasm about fashion and menswear. They don't see a collaboration as a quick buck that only needs two brand names slapped on it. Their way of handling a collab is about presenting their distinct view on menswear and giving a selection of their favorite designers a stage to shine.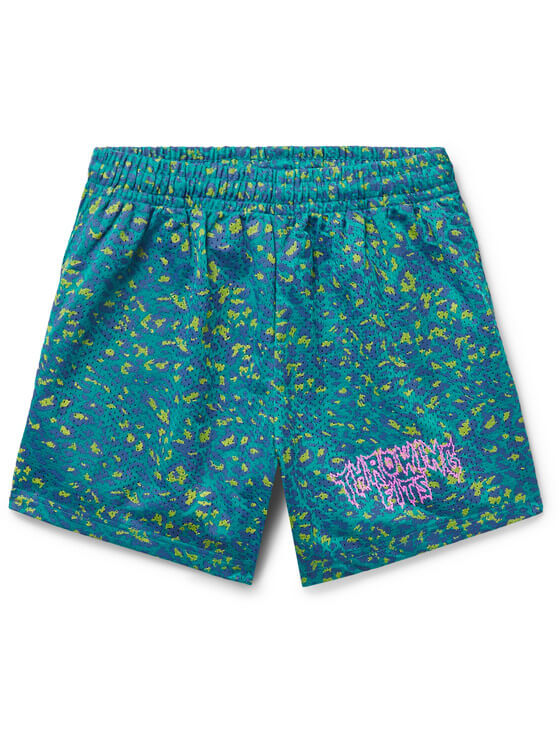 Therefore they decided to work on such a wide range of products. They encourage the potential buyer to discover something new, while also offering something for everybody. Something that can not be handled by just one designer.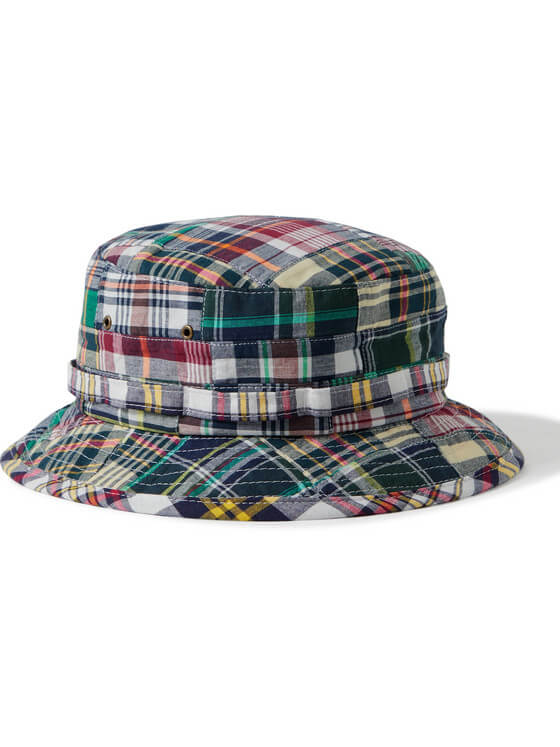 The 13 brands featured in this capsule not only display the personal style of TF, but "give are a real representation of the best of the best when it comes to men's fashion, no matter their size or origin".
The brands included read like this:
All Caps Studio, Beams Plus, Connor McKnight, Drakes, Hayato Today, Maiden Name, MF Pen, Monitaly, Norbit by Hiroshi Nozawa, Stoffa, Tory Van Thompson, Wythe New York and Yuketen. Plus a special drop of Throwing Fits merchandise, which when usually released through the podcast's own channels is a must have for their dedidcated fans.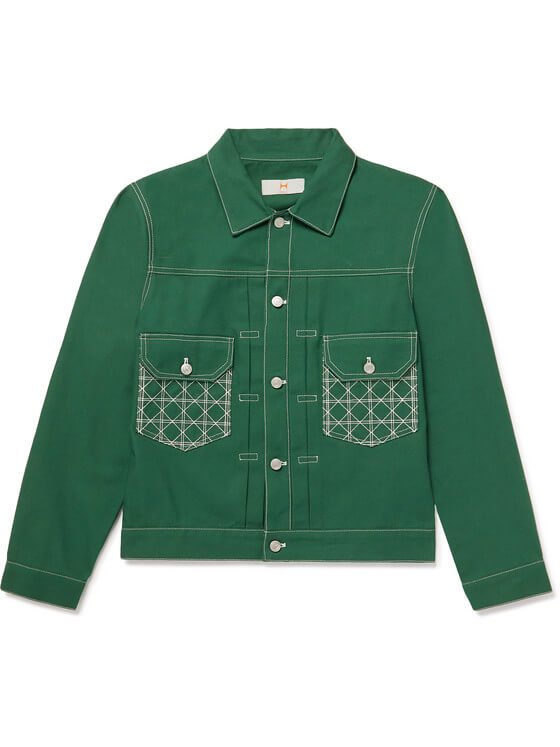 Pieces like the Trucker Jacket and Double Knee Pant designed by Hayato Today are definitely highlights, but each one of the three Hayato Today pants included in this collab would be the stand out piece of other brands whole collections. And this is only one of the 13 brands. The Beams Plus get up consisting of a bucket hat, a short sleeve shirt and a matching pair of patchwork pants is a sure shot. Stoffa's double breasted shirt jacket goes into completely different direction as the more technical get up by Norbit by Hiroshi Nozawa. But both are easily wearable within a week without looking like your switching between costumes. The MF Pen jeans look like the epitome of pants. The same level as a vintage Levi's grail. Pair them with one of the four colorful shirts by Wythe New York and wear the Yuketen Boots as the cherry on top. Another brand featured that clearly deserves a spotlight is All Caps Studio, a brand that has a devoted following on social media and surpasses itself each season.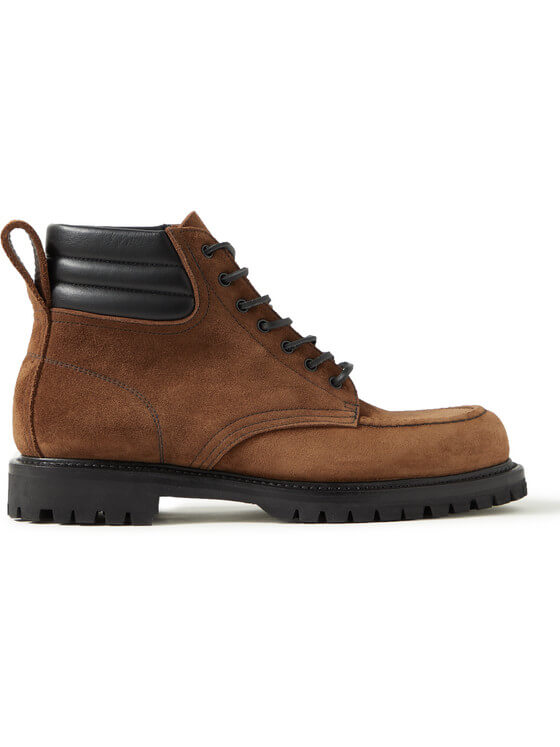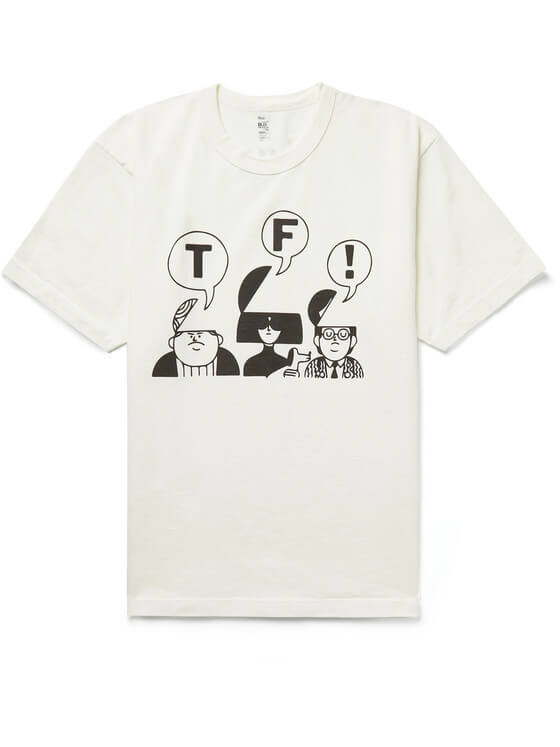 To put it short:
These collaborations easily puts shade on regular collections of other brands (Streetwear giants starting with an "S" included) and gives the best look of the playfulness that menswear is supposed to be in 2022.
The common thread between James and Lawrence and Mr. Porter is the shared love for the product and the work that's behind it. It doesn't surprise that Lawrence also authored a book called Fuck Yeah Menswear: Bespoke Knowledge for the Crispy Gentleman in 2012, that introduced a new generation to the world of menswear. Now ten years later TF x Mr. Porter once again defines the male fashion zeitgeist.