Mrs. C.J. Walker, born as Sarah Breedlove on a cotton plantation in Louisiana on December 23, 1867, only two years after the official abolition of slavery. She was an African American entrepreneur, philanthropist, and social activist who revolutionized the hair care and cosmetics industry for African American women in the early 20th century. Through the use of her beauty and hair care products company, Madam Walker was one of the first women to become a self-made millionaire while providing African American women with a source of income and pride. Madam Walker, also known for her philanthropy and social activism, played a significant role in the Harlem Renaissance movement of the 20th century.
Madam C.J. Walker's Youth
Sarah's parents and siblings worked as slaves. Her parents died early, and Sarah grew up in her older sister's household, having to earn a living as a laundress, learning only a little reading and writing in Sunday school.
At 14, she married, according to her own statements, to escape the stalking and abuse by her brother-in-law. At 17 she gave birth to her daughter Lelia, who from then on was the most important person in her life. When she was 20, her husband died, and Sarah set out on a weeklong arduous journey north. In St. Louis, where her brothers ran one of 300 "barbershops" – quite a lucrative business before the invention of the razor blade and the strict enforcement of segregation – she lived in shifting accommodations in the city's squalid slums, working for less than a dollar a day as a laundress, later a cook for white households, sharing the fate of thousands of black women who had moved from the South.
Madam C.J. Walker's Adulthood
At 27, she remarried – not a good decision. The husband turned out to be an unreliable drunk. To supplement her laundress wages, Sarah began working as a representative for hair care products for black women – a new market that was just beginning to develop. She knew from painful personal experience that hair loss and scalp disorders resulting from poor hygiene and nutrition were a major problem among the African-American population; anything that promised relief was in demand. While still selling the products of her biggest competitor, Minerva Turnbo-Pope, she experimented with different chemical concoctions and in 1906 launched her own line of shampoos, hair oil, and sulfuric pomade, which she used to care for the scalp, make hair grow (and not simply detangle, as she always insisted), and protect it from the damaging effects of the widely used hot straightening combs.
Madam C.J. Walker's Career
Madam Walker's "miraculous hair restorer" (since her remarriage, she traded under her third husband's name) was a resounding success, her professionally executed advertising campaigns featuring her own before-and-after portrait convincingly demonstrating its effectiveness. While her daughter managed direct sales and custom orders in St. Louis, she herself built up a highly efficient distribution system on extensive trips through the American South and the up-and-coming industrial cities of the North, later as far as Central America – in each new city to be "conquered" she rented a hall, demonstrated her products and trained interested customers as hair care consultants, who then won over new buyers as "Walker agents".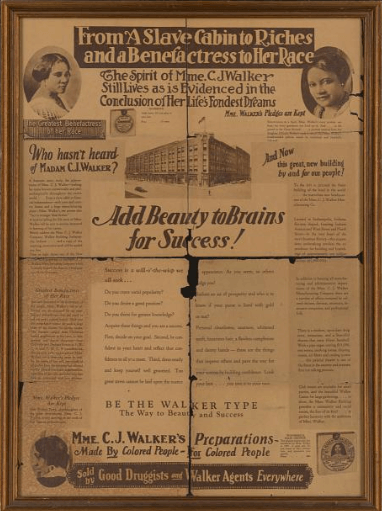 Not only did she make a phenomenal fortune for herself (ten years after selling the first can, the company had annual sales of $1.5 million), but she also created educational and income-generating opportunities for thousands of black women. In 1910, she moved the Walker Company headquarters to the boomtown of Indianapolis, where she built a large factory building with an attached research laboratory, hair salon, and beauty school. Shortly thereafter, she purchased a townhouse in Harlem, where Lelia opened an extravagant beauty salon decorated entirely in gray, blue and white. In 1917, she moved into her newly built, sumptuously furnished 30-room mansion in Irvington-on-Hudson, America's most expensive residential neighborhood in northern Manhattan – eyed suspiciously by the Rockefellers and other neighborhood millionaires.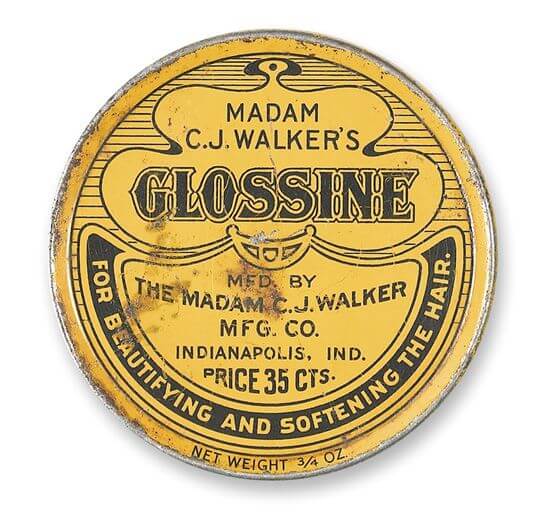 Madam C.J. Walker's Impact
As much as she enjoyed personal success and the comforts of her life, from the beginning Madam Walker was concerned with more – she wanted to show what black women were capable of achieving in a society marked by racial discrimination. Against some – male – resistance, she won the right to speak at the 1912 business convention of the National Negro Business League, led by Booker T. Washington, where she presented her own career as an example for young African American women – "Learn to grow hair and make money." At various conventions she campaigned against segregation in public facilities and transportation, and in 1917 she participated in a delegation to the White House in Washington to protest the lynchings of young black men. In order to "serve her race," she used considerable financial means, donated to educational, welfare, and cultural projects, and also called on her female employees to engage in social and political activities. However, she had little time for her own health – in 1919, at the age of only 51, she died as a result of an inadequately treated kidney disease. With her death, the African-American community lost its most important benefactor.
Madam C.J. Walker's Products
Today the company still exists under the name Madam C.J. Walker Beauty Culture. In 2013 the Madam C.J. Walker enterprises were bought by Sundial brands which also owns similar brands like Nubian heritage and Shea moisture. This purchase was made after the approval of her great-granddaughter.
The agreement was that the products had to honour Madam C.J. Walker's legacy while still meeting the needs of consumers. As we know by now, Madam C.J. Walker's original product line consisted of four signature products that were Temple Salve, Tetter Salve, Vegetable Shampoo, and Glossine. But today after much hair research the formula is not the same, but the products still aim to care and grow natural hair. The sundial company relaunched the brand first in 2016 and then again in 2019 offering new products like scalp restoring treatment, styling serum, texture definition cream, and moisturizing jelly shampoo.
Isn't that an amazing feeling to know that the legacy of such an important African-American woman is still living on? I'm all here for it! So, happy birthday dear Sarah and thank you for all your fighting, creating, and caring.
In case you'd like to know more about Madam CJ Walker, check out the mini series about her life on Netflix: