Recent conversations evolve around the way we perceive our bodies, in an effort to destigmatise what natural beauty looks like. Ischtar Isik, a renowned YouTube influencer who has been sharing her life and insights on fashion and beauty since she was 15, advocates for ways of promoting body positivity and self-love. Phiala, her recently-launched lingerie brand, is the epitome of her philosophy: why don't we love our bodies the way they are, especially as they serve greater duties than just looks?
In conversation with Ischtar, who is nowadays dedicated to publicly discussing issues related to mental health, self-love and body image — whilst challenging beauty standards, we delved into how Phiala celebrates real bodies and the way her career as an influencer has shaped Phiala's mission.
Hi Ischtar! How did you decide to start your own lingerie brand? And why lingerie?
I've been interested in fashion and design since I was a kid. And then this desire to create something of my own grew stronger through my creative work as a content creator. I decided to focus on lingerie because I wanted to challenge myself, but also because I knew it would be a powerful way to promote body love, especially with lingerie brands in Germany promoting too many beauty standards.
Your brand is about featuring real bodies. Why, and how do you do so?
Facts — we keep it simple and steer away from editing models' bodies, not even 1%. It may not sound extraordinary, but Photoshop is still the industry standard. There has been some progress in recent years, as we now see images of models showing stretch marks. However, that's often where it stops. It stops when the body's natural aspects interfere with the aesthetics —or the idea — of the brand's products.
I experienced this myself after my first e-commerce production. There was a discussion about whether it was okay to leave the models' shaving bumps in the bikini area as it might not look aesthetically pleasing. But why do we portray bodies as something that should be aesthetically pleasing? I don't want women to look at our products and find them beautiful only because the models wearing them are flawless. Instead, I want them to know that they don't need a perfectly smoothed bikini area for the products to look good. I want them to understand that it's normal: the bumps, stubble, body hair, cellulite, pimples and scars — they are all normal, and very beautiful too.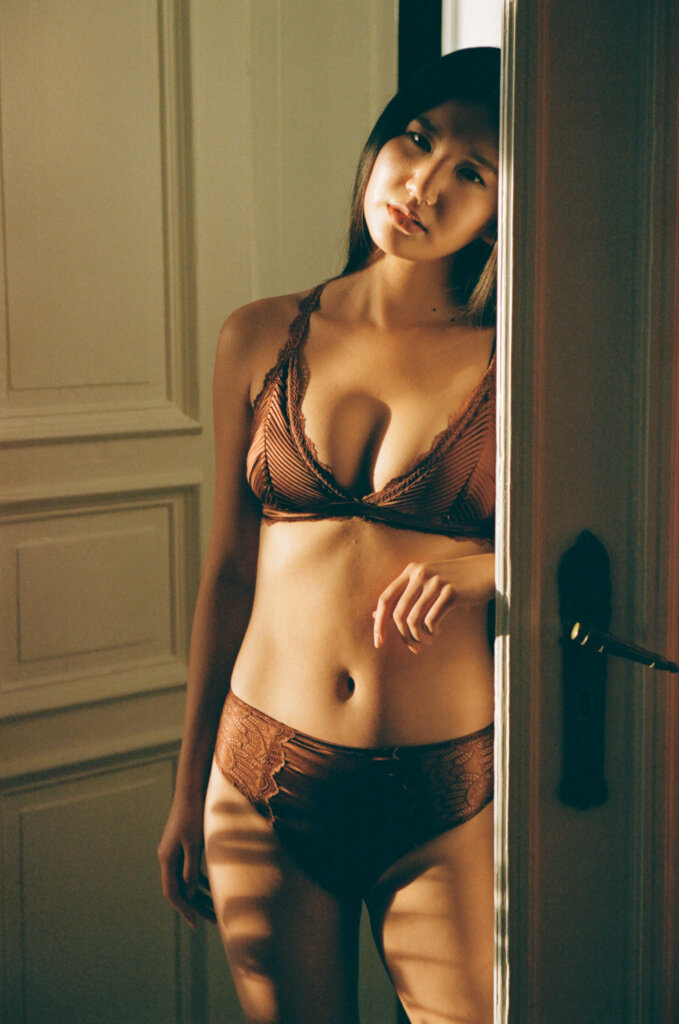 How do you keep the balance between mainstream beauty standards and authentic beauty?
It's challenging not to be influenced by beauty standards, especially when looking for models and working with model agencies — the selection is often limited to mainstream ideals. But we try to challenge these ideals and redefine them by showcasing different types of beauty. While we are not yet an all-size brand given our limited budget and scalability, our approach is to feature models of different sizes, shapes and backgrounds. Every product on our website is worn by three different-looking models and that reflects the diversity in beauty. By not photoshopping the models, we aim to portray authentic versions of beauty.
What's your design approach to the brand?
Phiala focuses on two main aspects in terms of design. On the one hand, the design is luxurious and elegant, giving women a special feeling. And on the other hand, the pieces are meant to be comfortable, for everyday use, without annoying pinching. I noticed that a lot of underwear with a focus on comfort often resulted in a loss of aesthetics, while stylish and sexy lingerie was often too uncomfortable and therefore reserved for those 'special occasions'. But Phiala's pieces are about embracing every moment, big or small, and feeling elegant and fabulous all the time.
Your second collection, the Bridal collection, is just coming out only a few months apart from Phiala's launch. How did you come up with the idea of jumping from an all-women to a bridal-only collection?
First of all, I have to say that the second collection can be worn by non-brides too, of course! Who says we can't feel super elegant and sophisticated in our everyday lives?
The bridal collection was inspired by my own wedding last year. I was searching for a suitable outfit and I thought, why not design it myself? Not only because I could create exactly what I wanted, but also because of the emotional factor of wearing something of your own on your wedding day. At that time, I was still working on the first collection and started to work on the second one simultaneously, as my wedding was coming up. There are some elements from the first collection that are also found in the second one. The Bridal collection is just a bit more playful, romantic and, of course, white!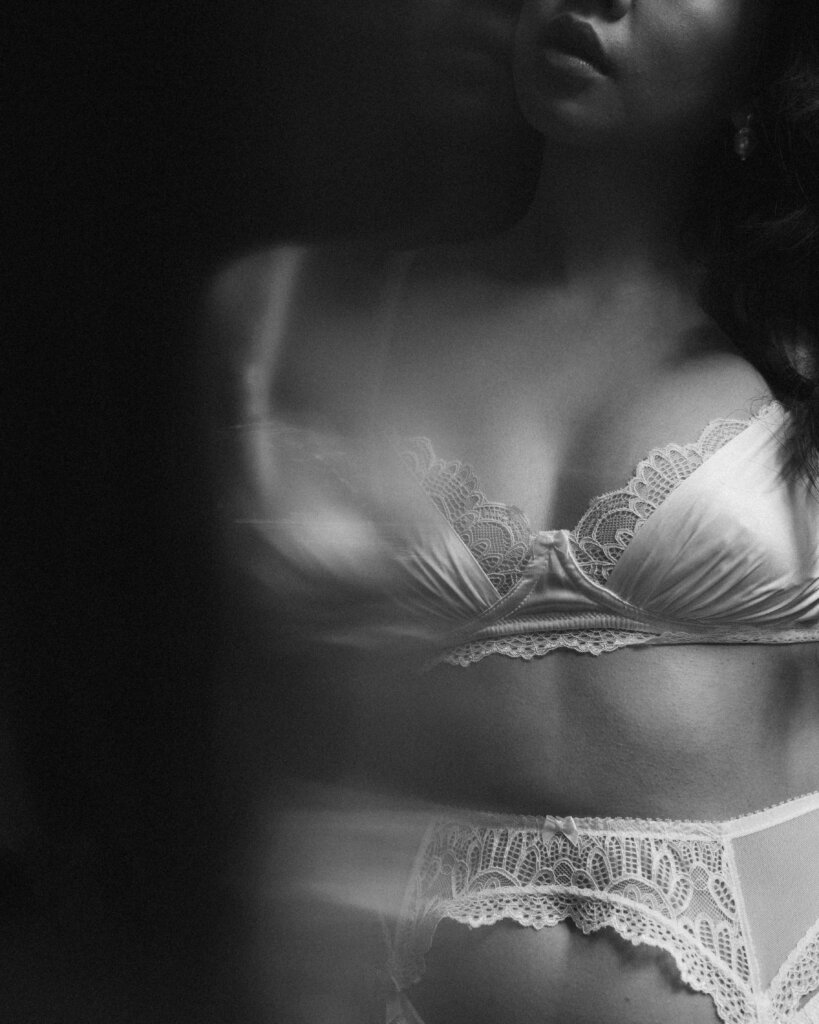 You've been an influencer since the beginning of the YouTube era. How do you think the way we exhibit and look at the body has changed in recent times compared to a decade ago?
I think there's been a noticeable shift in the way we exhibit and perceive our bodies in recent years. We're speaking of body positivity, inclusivity and acceptance. While the pursuit of perfection used to be really strong, we're now more inclined towards being more natural and authentic. Also, there's a growing awareness that our bodies are more than just outer shells. They serve a greater purpose than just looking good. So instead of solely focusing on the external appearance, there is a greater emphasis on well-being, self-care, and mental and physical health. However, I think we still have a lot of work ahead of us in order to break down beauty ideals and expectations. What we need is more brands, individuals and role models confident to show that there's nothing about our bodies to be ashamed of.
How does your experience as an influencer seep into Phiala's mission?
I believe there's some pressure to strive for perfection when you're an influencer. In the beginning, I felt like I had to conform to certain beauty standards in order to be successful. My worth was measured by the number of likes. The more flawless I looked, the higher the numbers. But eventually, I realised that this wasn't true for me. What's truly beautiful is being authentic and able to embrace ourselves, including our bodies. That's exactly what I want to convey with Phiala. I don't want women to visit Phiala's website or social media and feel like they need to look different. I want to foster a safe space, where we can show and celebrate our bodies the way they are.
What's coming up next for Phiala? What can we expect?
The first few years as a sole founder and CEO were incredibly intense for me and I've struggled to find balance between all the tasks. Now with the second drop, I'd like to take a moment to shape Phiala and its character. With Phiala we want to create a place for women to feel empowered, inspired and validated in their journey towards self-love. We want more women to share their own stories. And we want Phiala to go beyond just selling products.