This is this year´s last "Home Invasion", my monthly platform to remember the good old days and give you a glimpse into how I became what I am – a guy way to much obsessed with clothing who makes a living out of being obsessed with clothing.
This time we will have a look at a magazine that accompanied me through a time before Instagram would give us our daily overdose of fashion.
While growing up there are certain clothing items I really desired and even though I could never get my hands on most of them I still smile and fell good, when I think about them.
One item, at that time a must-have if you were a part of the Hiphop scene and had a sense of fashion, was an embroidered hoodie by urban fashion brand Ecko Unltd., a brand, founded in 1993, by Marc Milecofsky aka. Marc Ecko.
Back then I had a friend who was working at our local Hiphop fashion store that next to spray cans and the newest mixtapes by local artists or US DJ's carried brands like Tripple Five Soul, Roca Wear, Pelle Pelle and of course Ecko.
Ecko always had a very strong New York vibe to it. Very gritty, but still open minded to other influences. Just like a classic 1990's Hiphop beat consists of samples and scratches, Ecko seemed to include influences from the outside – in true NY fashion.
Back in the early 2002's with no social media and only a few German Hiphop magazines on the market that featured urban fashion, there was basically no source for information about fashion besides the likes of GQ or FHM. But nevertheless I was hungry for more.
My prayers were heard in the year of 2002, when a new shipment of Ecko clothes to my friend's store included a small stack of the first issue of "Complex Magazine".
Marc Ecko noticed the lack in lifestyle magazines specially aimed at young men – regardless of race – with an interest in urban culture. So influenced by Japanese men's magazines and buyer's guides he put together the first issue of "Complex".
Of course not without the later iconic flip cover (The first cover featured Nas and "Sopranos" actor Dominic Chianese and the backside featured actress Rosario Dawson), meaning you could read the magazine from both sides. One side with the focus on editorials, interviews, street art and pop culture – the other one with a focus on fashion and products with the flair of a mail order.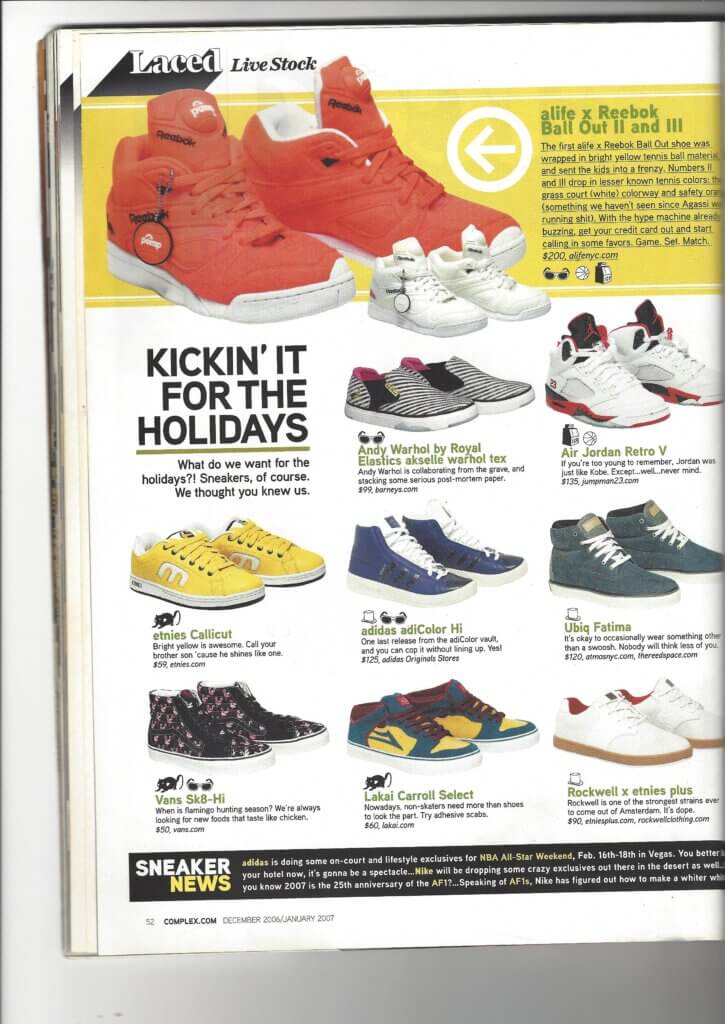 Other outstanding cover pairings included Mos Def and David Bowie (2002), Aerosmith's Steven Tyler and DJ Rob Swift (2003), Travis Barker and Lil' Wayne (2006), Andre3000 and Will Ferrell (2008) and A$AP Rocky posing with Jeremy Scott in a shooting similiar to the famous "Basquiat vs. Warhol Boxing Match" photo (2012).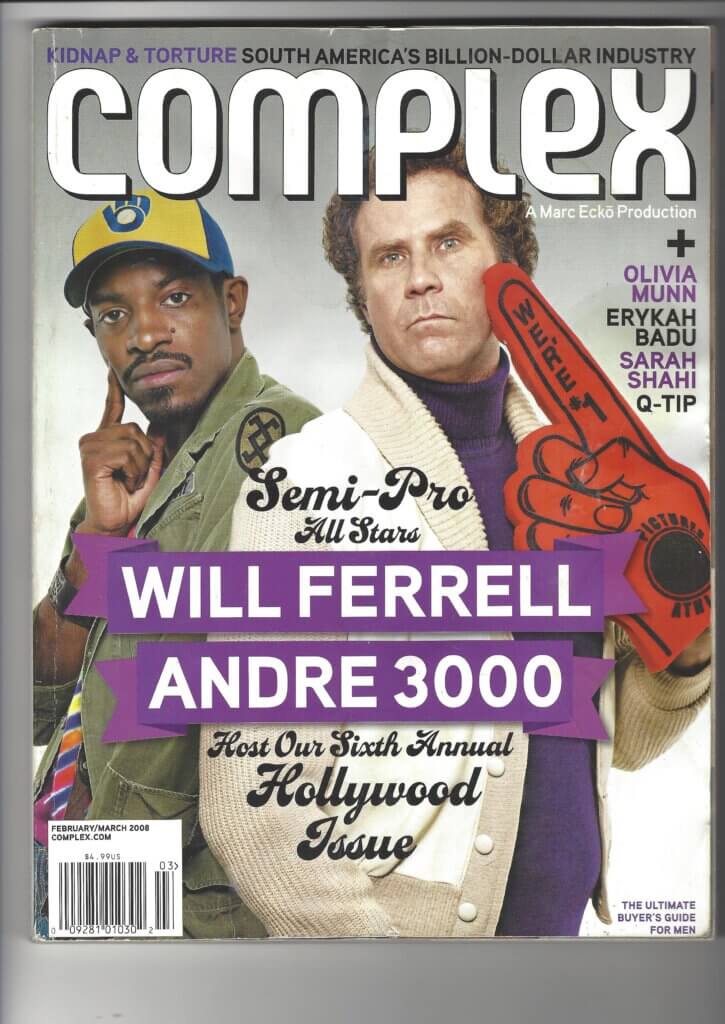 And there was simple no other magazine featuring a mixture of brands like Wood Wood, Stüssy, Ralph Lauren, Obey, Maharishi, Rogue Status, Rockwell and A Bathing Ape at that time. So "Complex" really stood out.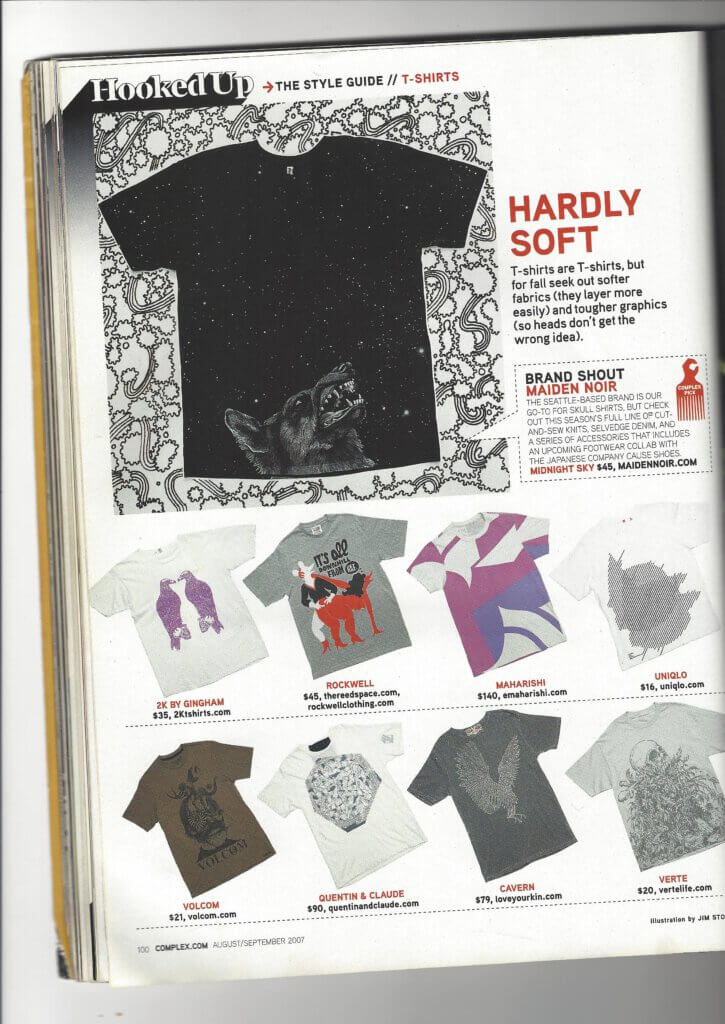 The magazine exactly hit the right spot in time, when fashion found it's way into Hiphop and artists like Lupe Fiasco, Wale, Kanye West and Pharrell started exchanging their former baggy jeans for a smaller cut, their sports jerseys for japanese graphic shirts and their New Era 5950's for Supreme 5 panel caps. It might sound unbelievable, but back then you could not get any plaid flannel shirts in streetwear shops. It was just not fashionable here, so I had to buy shirts "similar" to the ones I spotted in the magazine in my local hardware store. With each new issue I was ready to get influenced in hunting for something new.
Browsing through a new issue basically felt like checking the newest toy catalogue to get inspired for your Christmas wish list.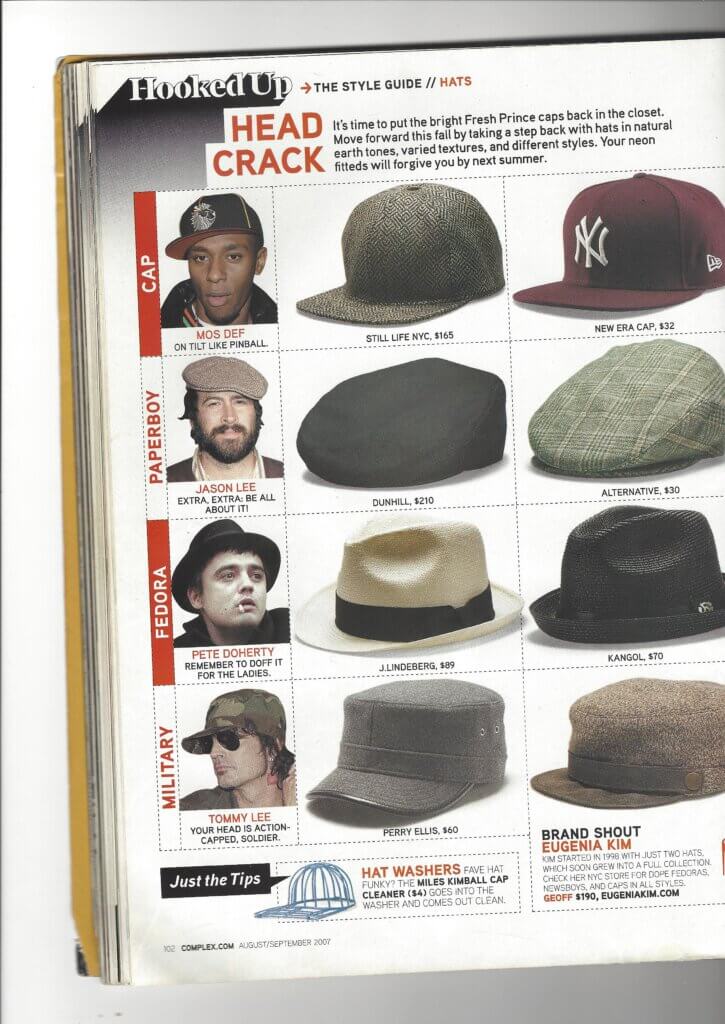 It also featured a section in which readers could write letters about their love life-problems ("Ask a Triffey"), shopping guides to different cities, news about sports and video games and my most-beloved section "Hooked up – Street Detail", in which people from the streets had their fit pic (That word was not invented back then) taken and answered questions such as "What trend should die?" or "What song captures your style?". Of course there were also perfume ads with free samples. And that's definitely why I settled on Jean Paul Gaultier's "Le Male" for a very long time.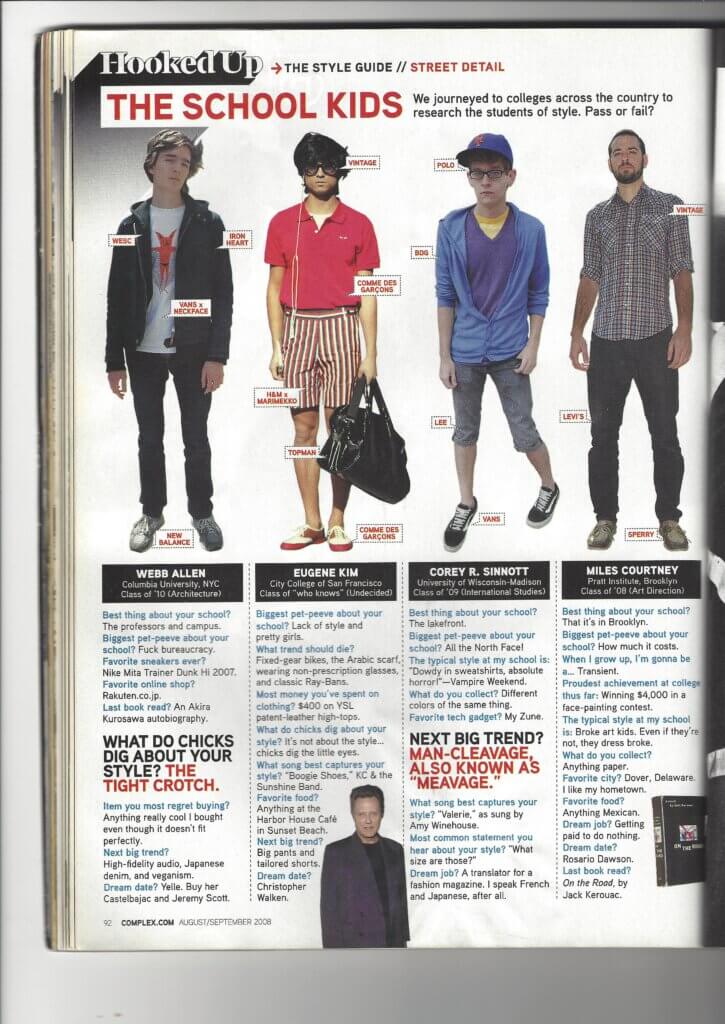 I found countless inspirations in that magazine and even though it was founded by the head of a Hiphop fashion brand it clearly guided me on my way away from the ordinary Hiphop-head look to streetwear and men's wear. But that's exactly what fashion is about – evolution.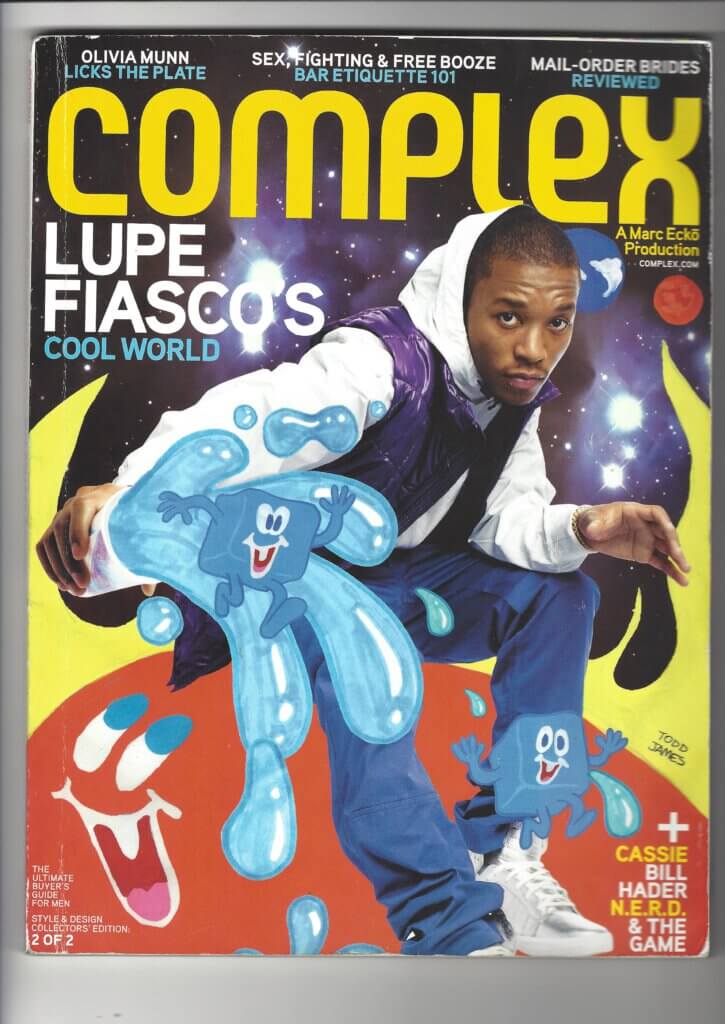 But my personal favorite and most influential release was the August/September 2008 issue that featured rapper Lupe Fiasco.
He released his debut "Food & Liquor" that featured the skate anthem "Kick, Push" in which he gave shout outs to Nike SB in a time when Air Force 1 were still dominating in Hiphop circles. Of course I bought my first pair of SB Dunks soon after hearing it.
His predecessor "The Cool" dropped in 2007. He name droped everybody from Nigo, Le Messie, Supreme, Hiroshi Fujiwara to Goyard, Dr. Romanelli and Kaws. Except for Nigo I never heard those names before and so my research begun.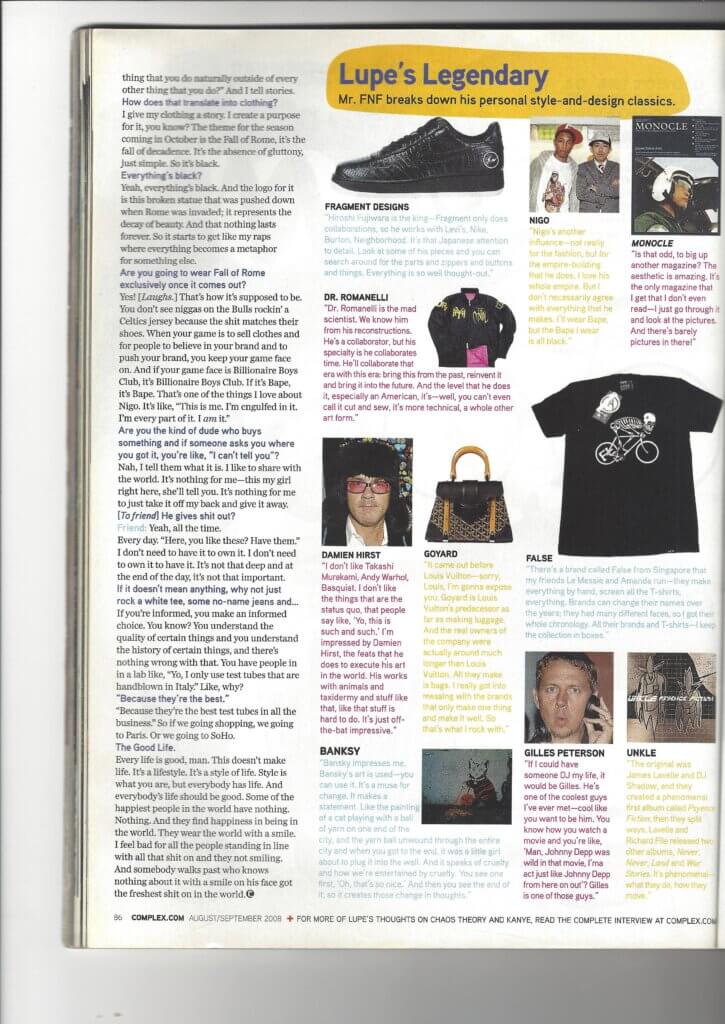 Another outstanding issue was published in April of 2009 with Kanye West, blessing the cover for a third time, who gave the readers a detailed look into the design process of his first collaboration with Nike – the Nike Yeezy 1 – a shoe that would change the sneaker game forever. Foreshadowing the flip cover of this particular issue featured Kanye's later to be-wife Kim Kardashian.
What always stood out was the tongue in cheek-style of writing and the love for the street culture that was oozing from every page. It influenced my writings until this day. It's fair to say that I learned more from reading "Complex" than from my days at University.
"Complex Magazine" shut down in 2017, but influenced the culture on a massive scale and for the first time gave former overlooked artists, brands – and more important – subcultures a bi-monthly platform at every news stand.
Until today the "Complex Network" flourishes with their main website complex.com still being one of the best sources for urban culture on the world-wide web.
I cherish each and every one of my old issues, that I of course still have, and whenever I want to take a trip to a simpler, but groundbreaking moment of time in fashion history, I open one of those old magazines.
I hope you enjoyed our little trip down memory lane as well.
See you next year,
Caiza